Lassen Volcanic National Park is a wonderland of things to do and places to see any time of the year, but around the beginning of June the road to this magnificent place opens up and the possibilities to explore more increase! Located in the Shasta Cascade Region of mountains in Northeast California, Lassen is home to all 4 different types of volcanoes seen throughout the world. The effects of the 1915 eruption of Lassen's top are seen to this day. Jagged peaks stretch down to crystal clear lakes, meadows filled with wildflowers, boiling springs, mud pots, and other hydrothermal features are just some of the incredible things to see here.
Let our Lassen lodging be the perfect basecamp for all of your adventures in Lassen Volcanic National Park and beyond! Our warm and welcoming bed and breakfast is located conveniently near Lassen Volcanic National Park, The Pacific Crest Trail, and Lake Almanor. It is a great place to stop along the way if you are exploring other National Parks in the cascade range. We are tucked into the Northern California wilderness and a stay with us means reconnecting to the natural world, slowing down, and unwinding. If you are ready for the perfect place for a getaway near Lassen National Park, book your room today at our charming lodge!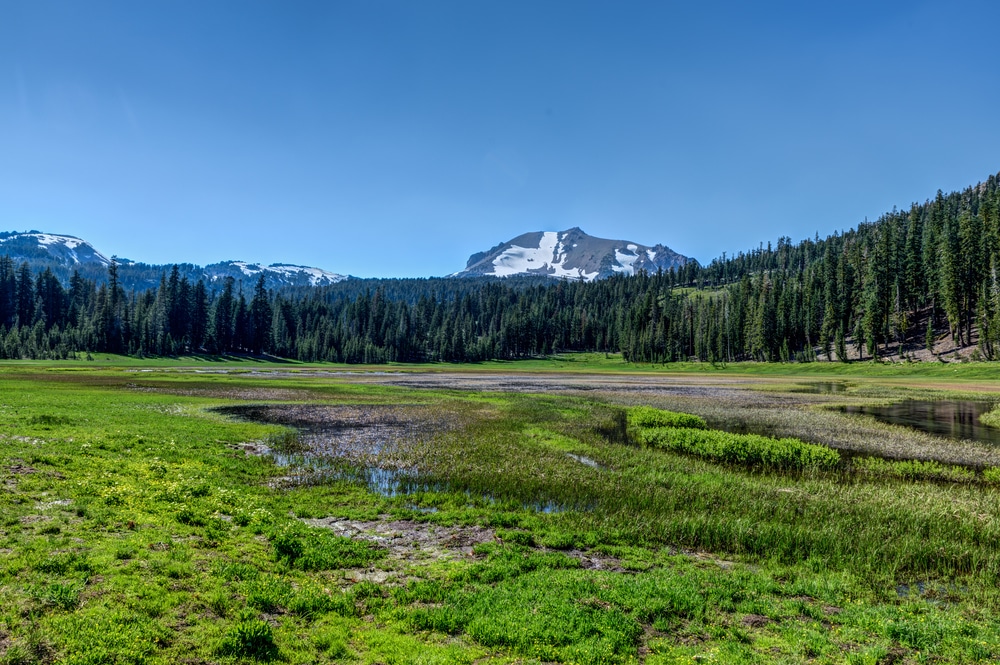 The Road to Lassen Volcanic National Park
Around the beginning of June, the road that goes through Lassen Volcanic National Park will open after the winter season when it is filled with snow and other wintery conditions. This main park road is a continuation of Highway 89 and is also referred to as a part of the Volcanic Legacy Scenic Byway. In this area, the highway passes through Lassen and Lake Almanor. Along the road, you can stop at many points of interest and gorgeous mountain vistas. You'll see areas that were devastated when the volcano erupted, past creeks, streams, and meadows. Here are 11 great places to see along this impressive stretch of road.
Starting at the Southwest entrance the Kohm-Yah-mah-nee Visitor Center offers an exhibit hall where you can learn all about the history, culture, and geology of the area through interactive exhibits. There is a 20-minute park film to watch as an introduction to this place and staff is available to answer any questions you may have.  Great hands on displays for  the kids, large relief map of the park, bookstore, giftshop and snack bar.   If traveling with kids make sure to ask for the Junior Ranger Book. Electric car charging station now.
Sulphur Works is the most easily accessible area to view a hydrothermal location in Lassen Volcanic National Park. You can view this natural wonder from the sidewalk where you'll see boiling mudpots and steam vents and smell the pungent aromas of the earth.  Sulphur Works is constantly changing, so even if you have seen it before it is worth a quick stop.
The roadside Emerald Lake is aptly named as it is a green lake that gets its color from the plants that grow in this shallow lake.  In the spring both Emerald Lake and Lake Helen are a beautiful aqua blue as the snow and ice melts off the lakes.
A highlight and must-see stop along the drive through Lassen Volcanic National Park is Lake Helen. This glacially carved out lake has a striking sapphire blue color and is the result of snow runoff. It is over 100 feet deep and is ringed by the incredible mountain peaks of the area. Lake Helen is named for Helen Tanner Brodt who was the first white women to reach the summit of Lassen Peak in 1864. The Bumpass Hell Trailhead is in this area as you approach Lake Helen and is also with a visit.  If you have 2 hours the Bumpass Hell area is worth a visit, it is 3 miles round trip.  If not everyone in the group wants to hike, hikers can be dropped off at trailhead and picked-up at the Kings Creek Picnic Area.  Bumpass Hell is usually the last trail to open do to snow.  It happens to be the largest geo-thermal area west of Yellowstone.  Bumpass Hell earned it's name after Kendall Bumpass slipped and fell into one of the boiling mud pots while showing the area to dignitaries.  Bumpass severely burned his leg from this encounter, some sources say he actually lost his leg.
The road tops out at Lassen Peak trailhead where you can walk to the top of one of the largest plug dome volcanoes in the world. Here you'll get stunning views of the landscape that makes up Lassen Volcanic National Park where you'll get a bird's eye view of lakes, forests, and mountains.  Near the entrance to the Lassen Peak parking area is the highest paved road in the Cascades at 8,512 feet.
Kings Creek picnic area is a great place to stop off and enjoy a picnic in a lush meadow of grasses. From here you can hike out to Cold Boiling Lake and Crumbaugh Lake.  On these short walks, there are opportunities for birding, as well as seeing wildflowers and wildlife that call this area home.
There are places along the road at pullouts through Lassen Volcanic National Park to view Lake Almanor which is a man-made lake reservoir that boasts 52 miles of coastline.
The Lassen Volcanic National Park road wraps around the eastern flank of Lassen Peak and heads toward Summit Lake. Here there are two campgrounds, Summit Lake North and Summit Lake South. This picturesque little lake is just off  the highway and is a great place to take a quick dip on a warm day.
The devastated area walk (.5 miles)  has a short interpretive walk with information on different types of lave rocks and interpretive plaques.  From the road there are excellent views of the east of Lassen Peak.  Take note of the island of tress on the hillside, without the 1915 eruption most of the area would have been forested.  For some interesting photos before, during and after the 1915 eruption  check-out an article by Active NorCal.
 Stop for a family photo at Hot Rock.  Hot Rock is a giant piece of dacite lava which came down the mountainside in a snow avalanche from the eruption of Lassen Peak.  This rock is estimated at 300 ton, it is said that the rock was still sizzling 40 hours after it was ejected from Lassen Peak.
Manzanita Lake is near the NW entrance of Lassen Park . This popular for fishing, swimming, kayak rentals or taking in a ranger led program. Here you can see impressive views of Lassen Peak, especially at sunset when the mountain is reflected in the lake.  There are two short walks one around Manzanita Lake and the other is the Lily Pond Trail.  Stop in at the Loomis Museum for photos of the 1915 eruption and collection of Native American Baskets.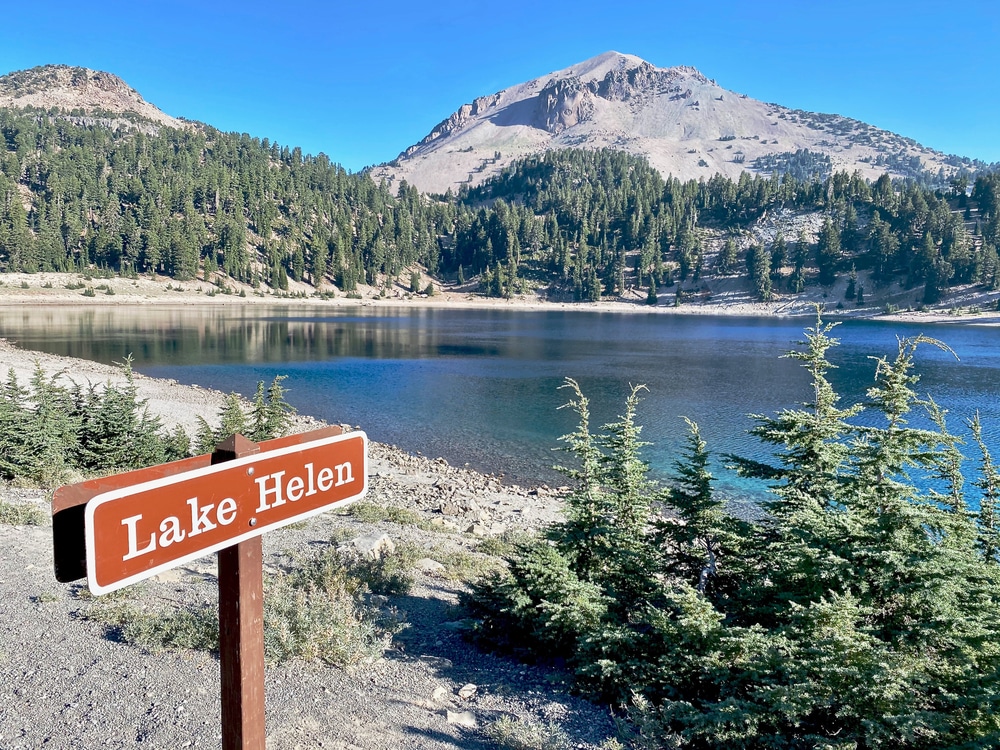 The Best Lassen Volcanic National Park Lodging
When visiting Lassen Volcanic National Park our Northern California bed and breakfast will be your perfect retreat to unwind at! Our historic lodge provides all the modern comforts while maintaining a charming rustic atmosphere. We offer cozy and quaint guest rooms where you'll be able to rest and rejuvenate for whatever adventures you have planned. You'll have peace of mind knowing that at the end of a day of exploration you will come back to a quiet, warm, and welcoming Northern California lodging.
As a guest you'll enjoy amenities like plush robes to relax in, free wifi for all of your internet needs, in-room sinks and mirrors, and a complimentary breakfast to get your day started off right! Let our lodging be your home away from home while you are passing through the area or are here for an extended amount of time. If you are ready for the best escape to the Northern California wilderness, book your stay with us today!