Events at Lassen Volcanic Park
Lassen Volcanic Park Photo Contest
Enter your favorite photos of Lassen Volcanic National Park, and the winning photo will be on the 2023 Lassen Annual Pass. Photographs may be submitted beginning in May and ending in early Sept. 2023. For more information, please get in touch with 530-595-4444, ext. 5148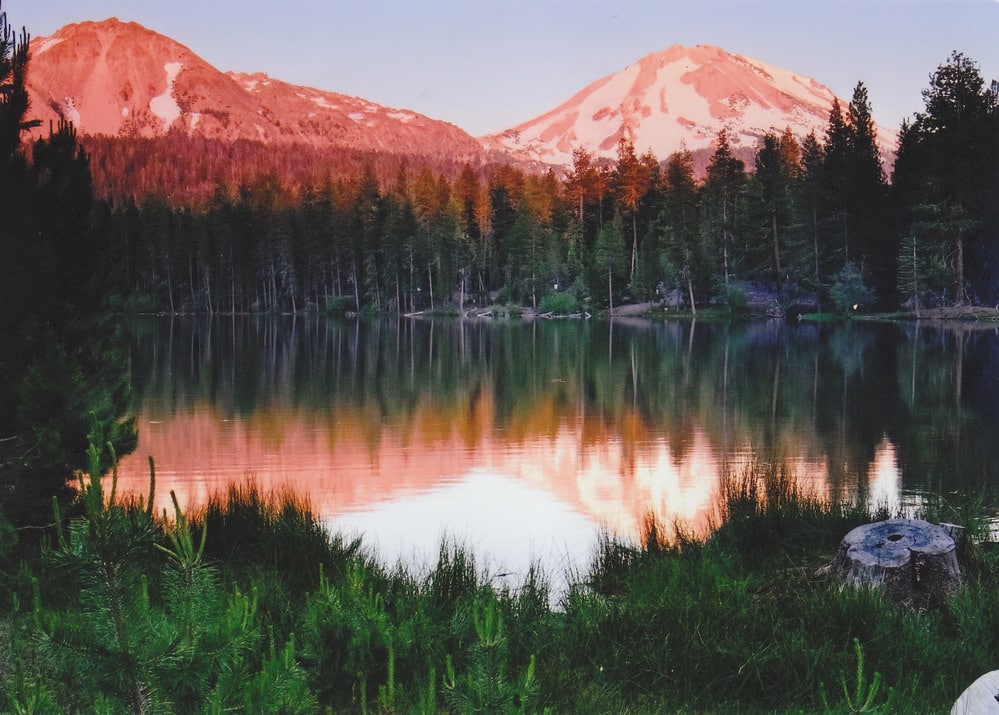 Lassen Peak and the Chaos Crags illuminated orangish-pink by the setting sun reflected on the still waters of Reflection Lake.
Free Entrance Days at Lassen Volcanic Park 2023
For Kids! Junior Ranger Program
Check out the special programs for kids in the park. Join one or more of the ranger-led Junior Ranger programs. Special programs run during the summer months. To get started, complete the Junior Ranger Activity Book and Field Journal, then turn it in to a park ranger in person at Lassen National Volcanic Park.
Ranger-led Snowshoe Walks
For 2024 Lassen Volcanic National Park will be hosting Ranger-led Snowshoe walks.
 Kohm Yah-mah-nee Visitor Center 1:30 pm – 3:30 pm. Lassen Park website for details. Space is limited to 40 guests. Lassen Park provides snowshoes with a 1.00 donation. Tickets must be obtained at the visitor center day of the event. Weather is unpredictable. Please call ahead to make sure the snowshoe walks will be held. 530-595-4480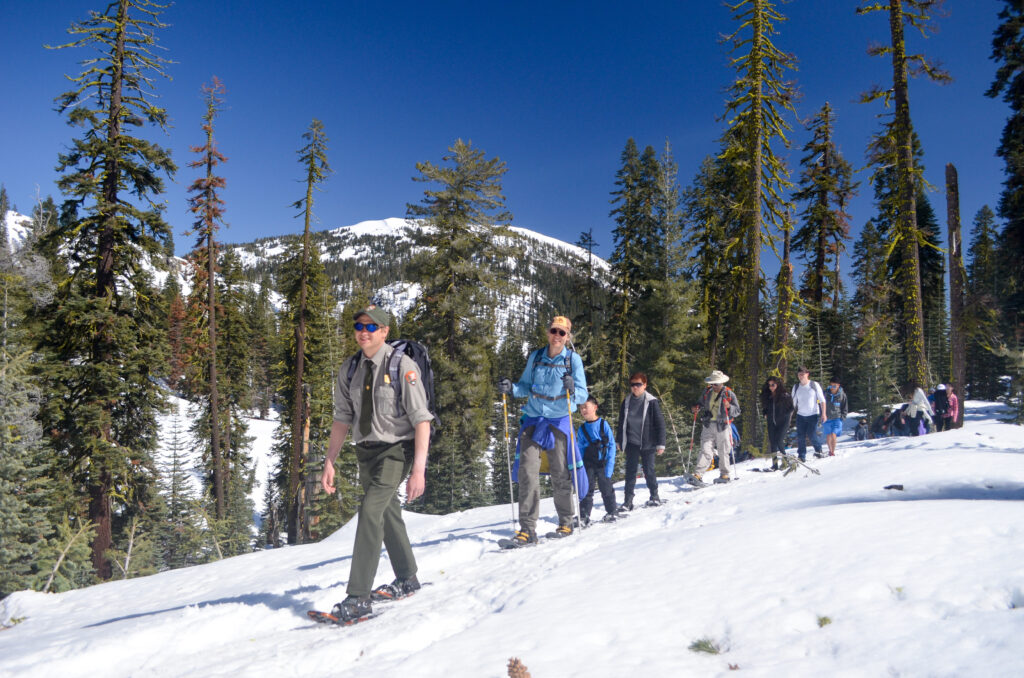 Ranger leads a line of snowshoers through the forest on a ranger-led snowshoe walk through the red fir forest. Mt. Conard in the background.
Lassen National Forest Snowshoe Walks
Guided snowshoe and cross-country ski tours hosted by Lassen National Forest, Chester, Ca. Participants must be at least eight years old, and an adult must accompany minors. Snowshoes are provided free of charge, but cross-country skiers must provide their own equipment. Reservations required. For more information or to register, contact Stacy Kronner at (530) 258-2141
Walks are 2 hours in duration. Leaders will discuss basic winter survival skills, environmental education, and local history. Tour destination varies depending on current snow conditions. Locations include Morgan Summit, Locherman Canyon, Almanor Recreation Trail, and the Pacific Crest Trail. Tours are geared toward beginners. However, they can be strenuous in deep snow or fresh powder. This is a great way to learn how to snowshoe and basic winter survival skills.
Reach Higher Trail Challenge
Will likely return spring of 2024
Take the Trail Challenge and take your fitness level to new heights! Watch for a New challenge for 2023. The challenge form invites participants to hike at least seven miles and learn more about Lassen's very own Sierra Nevada red fox. Pick-up forms at St. Bernard Lodge or either visitor center in the park. Complete the challenge and turn in your completed form to earn a commemorative bandana. Are you ready for the challenge?
Acrylic Plein Air Painting Workshop organized by Lassen Association
  Watch for this workshop again in 2024
Instructor: Yvonne Jordan-Sherwood. Location: Meet at the Devastated Area Parking Lot. Cost: $30 per person Lassen Association members $25 per person Kids 10-18 $10 with a paid adult
COURSE DESCRIPTION:
Plein Air means painting on location. This 3 hour course will be geared towards the beginner who may have never painted with acrylic before but any level of painter is welcome. Children 10 and up are able to attend class with parent participation. This class will cover how to choose what to paint from the overall view, basic techniques such as painting on canvas, applying paint and brush strokes, and finishing with the detail work. When you're done, you go home with a work of art painted by you! This will be a fun class for anyone interested in trying their hand at acrylic painting! Laughter and fun encouraged as you paint! Supplies: Paint and canvas will be provided. When you register for class a detailed list of supplies will be given to you. Please bring a chair you can sit at a table with.
PLEASE BE AWARE THAT ACRYLIC PAINT WILL STAIN YOUR CLOTHES! PLEASE WEAR SOMETHING YOU DON'T CARE IF THE PAINT ENDS UP ON!
Workshop details and registration at Loomis Museum, Kohm Yah-mah-nee Visitor Center, online at www.lassenassociation.org or call 530-595-4464 Class limit: 20 people – Ages 10 to Adult.
Guided Hike Manzanita Lake
 TBD 4- 6 pm
A great beginner walk and talk with author Tracy Salcedo around Manzanita Lake. This easy trail winds gently around Manzanita Lake and is an ideal choice for families or others unable to hike on rugged terrain. The walk is well-shaded by looming Jeffrey pines and bordered by lush willows. This trail offers a welcomed respite from the heat of the day. As the trail wanders along the shoreline, numerous openings offer hikers an opportunity to spot ducks, geese and the occasional muskrat and beaver. The surrounding forest also offers birdwatchers and wildlife enthusiasts opportunities to catch glimpses of woodpeckers and deer.
Experience Level: Beginner to Experienced
Ages: All
Cost: $10 per person; Kids under 10 are free
Instructor: Tracey Salcedo
To register for this event, please visit lassenassociation.org or call 530-595-4464
Lassen Dark Sky Festival
August: Lassen Park will not be having the Lassn Dark Sky Festival in 2023. Please check back spring of 2024 for dates.
There is a new business Lassen Sight Seeing Tours which offers a night sky viewing tour.
Art Wine & Brew of Lassen 
2024 Check back summer of 2024 for exact date.
Ice Skating Chester Park
New to Chester in 2023 is a Community Ice Skating Rink located the Chester Park.  The ice skating rink is open Fridays 4 pm – 8 pm and Saturdays and Sundays from noon to 4 pm until March 26th. The cost is $5 dollars and includes the skates.  Online waiver.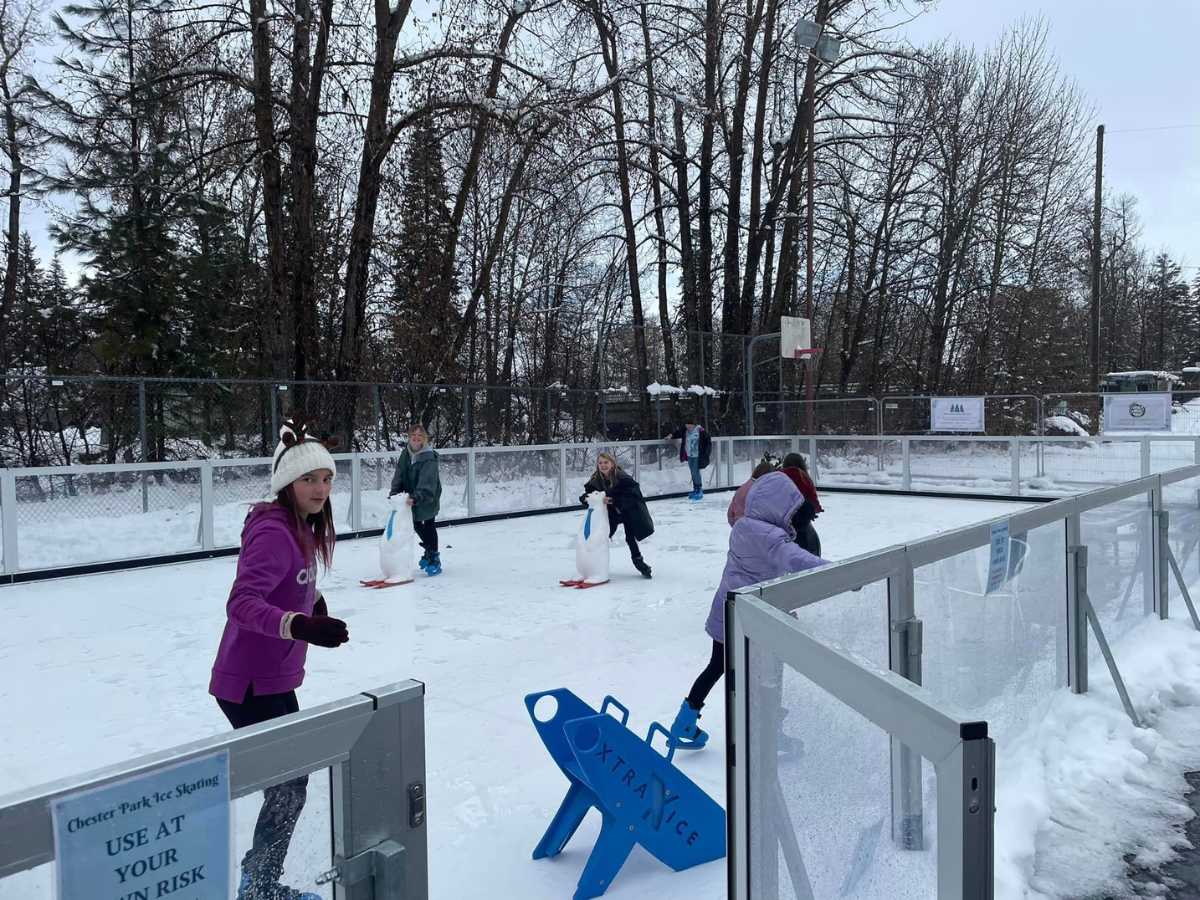 Kids enjoying the Chester Community Ice Skating Rink[/caption]
Ground Hog Fever Festival
February 4th
1 pm to 4 pm
Plumas County Courthouse
Main Street Quincy
Meet our world-famous groundhog, Chuck Wood, pick your favorite chili, browse local vendors and participate in one of our mini-contests for great fun, food, and friends!
Chester Winterfest Dog Sled Races
February 10th and 11th  2024
8 am to 3 pm
Join sled dog mushers from all over the western states competing in the Chester Winterfest Dog Sled Races. The Sierra Nevada Dog Drivers organize the race. Races start behind the Cedar Lodge near the Junction of Hwy. 36 and Hwy. 89, 3 miles west of Chester. The starting line is a great place to view dogs and meet racers. More information at www.sndd.org
Chilly Chili Cook-off
February 17th, 2024
1 pm to 4 pm
Chester Park
An afternoon of fun with an ice carver, music, a toque contest, and 15+ chilis to sample.  Check out the ice skating rink while you are at the park.
Lake Almanor Snowmobile Club Poker Run
February
Location: Chester/Lake Almanor Snowmobile Park
Cost: $25.00 for poker hand and lunch
Hours: 9 am – 3 pm
Contact person: Tom Gaither at 530-37
103rd Annual Red Bluff Round-Up
April 21-23, 2023
The Annual Red Bluff Round-Up is more than just a rodeo! You will find a whole host of activities throughout "Tehama County", sponsored by several area organizations and coordinated by the Red Bluff-Tehama County Chamber of Commerce. Round-up festivities are kicked off with the Chili Cook-off, live entertainment, pony rides, a kiddie parade, a car show, and other rodeo events. For tickets and more information, call 530-527-1000 or visit www.redbluffroundup.com.
The Red Bluff ound-up is now the largest 3 day rodeo in the country.
24th Annual Memorial Weekend Craft Fair
May 27 & 28th, 2023
Come to the memorial weekend craft fair to browse and purchase an impressive variety of handmade items, including yard art, log furniture, clothing, pottery, rugs, jewelry, and much more. There will be food vendors on site. The event is an excellent way to kick off the summer season. This event is free to the public.
22nd Annual Spring Century Bike Ride
May
The ride travels through the Indian Valley to Genesee, around Antelope Lake, and back to Greenville. The cost is $50 for adults and $25 for children with pre-registration. The price goes up after May 1st. The ride has two different ride levels, the longest being 100 miles. This all-day event includes a patch and a great catered lunch. Call Lillian at 530-284
Dark Sky Festival
August Dates to be determined
The Lassen Dark Sky Festival is a three-day festival dedicated entirely to celebrating the majesty of the night sky. Rangers, astronomers, astrobiologists, and novice star lovers alike all flock to Lassen for this one-of-a-kind festival. Over the weekend, there will be nightly constellation and stargazing tours, ranger-led hikes, and hands-on educational activities. The Lassen Dark Sky Festival is also an excellent opportunity to learn from some of the business's best, most informed people. There will be presentations and demonstrations by luminaries from NASA, the International Dark Sky Association, RECON, and the Astronomical Society of Nevada. Whether you are an experienced astronomer or an amateur star-lover, the annual Dark Sky Festival promises a little something for anyone who appreciates the stars, planets, and little-known wonders of outer space.
41st Annual Mile High Century Bike Ride
The start and finish location for all rides is Chester Park on the Feather River. The Mile High 100 Bike Ride has three different routes to choose from. Century Ride: 108 miles. Metric Century: 56 miles. Half Metric Century Ride: 33 miles. More information and online registration.
Almanor Art Show
June 24th and 25th 2023
Collins Pine Lawn
Main Street Chester
10 am to 4 pm
The Almanor Art Show is all about beautiful things in a beautiful place. It is one of Northern California's oldest and most respected exhibitions of fine Arts & Crafts. There will be live music on both days, lots of shade, and food and cold drink vendors. There will be 100 juried vendors at this art show.  The event is free to attend.
Annual Bluegrass Festival
Canceled until June 2023
The Bluegrass Festival offers four fun-filled days of Bluegrass music for only $40 for adults. Children under 12 get in for free with advanced ticket purchases. Evening-only tickets go for $10. In addition, to live music performances, there will be jamming classes, quilting, and more. Pets are welcome.
 High Sierra Music Festival – Quincy
 June 29th – July 2, 2023
Four-day festival with multiple stages, late-night music, on-site camping, and great food and drink. For more information, 510-595-1115 or visit the website for details of the 2023 High Sierra Music Festival.
Lassen County Fair – Susanville
July   17th – 21st  2024
From one to 100, there is something for all ages at the Lassen County Fair. Come for great live music, stock shows, rides, food vendors, games, and a variety of activities throughout the week. Be sure to join us for the Lassen County Fair parade on the 20th beginning at 10 am, where local businesses, organizations, clubs, and individuals will strut their stuff down Main Street. For more information and show times: www.lassencountyfair.org.
55th Annual Gold Digger Days Greenville
July 17th
Gold Digger Days is a one-of-a-kind celebration of gold mining heritage featuring a parade, arts & crafts, street dance, horseshoe pitching, softball tournament, gold panning, firemen's muster. and more. Call 530-284-6633.
Portola Railroad Days
August
Portola Railroad Days is a 4-day community event that includes train rides, railroad hand car rides, a model train expo, street dance, food, mu7
Annual Street Rod Extravaganza & Motorcycle Exhibition
Sept. 11th, 2021
800-350-4838, 530-258-242
Experience the premier Northern California poker run, poker walk, and hot rod contest as well as cruise 35 miles around Lake Almanor, one of the top scenic drives in the US. Friday night of the festival kicks off with live music, food, farmers market, arts & crafts, and all sorts of small town fun! Saturday includes the car show on the Feather River at Chester Park, a Poker Run around Lake Almanor, and a Poker Walk through the charming town of Chester. More information.
Art & Wine Festival Lassen Park
A growing local festival featuring local artists, delicious local and international wines, and great local music at the park's visitor center.
Manton Apple Festival
October
The Manton Apple Festival has been around for over 20 years and continues to grow and improve with every new year. The festival starts at 9:00 am and ends at 4:00 pm. There are vendors, kids events, and live music all day long. Both admission and parking are free. Last year more than 180 pies where sold at over 100 different booths. While in Manton, be sure to visit the wineries!
Rails to Trails Festival
October 8th, 2022
10 am – 3 pm

Train Depot in SusanvilleThis fun-filled outdoor event offers fun for the whole family, including railroad handcar rides, chili cook-off, and an arts & crafts fair. There are also children's activities, music, and food vendors. Don't forget the tasty Friday night barbeque.
Chester Old Towne Oktoberfest
October
Oktoberfest is the quintessential fall festival. With a donation to St. Andrew's Academy local scholarship fund, you will receive an Old Town Pub glass and a map to the festival's games, food, live music and other festivities.
Mountain Harvest Festival
October 15th, 2022
The Mountain Harvest Festival is one of the major fund-raising efforts for the Plumas Arts community. Plumas Arts provides art education at the local schools, supports local artists and performers, and manages a gallery featuring the work of regional artists. Event admission is $7. Tasting Passes include event admission and a souvenir tasting glass for $35. Event is held at the Plumas-Sierra County Fairgrounds. 530-283-3402 for details.
38th Annual Western Open Fiddle Championships
October 20th- 22nd, 2022
Elks Lodge Red Bluff
texshar@pacbell.net
Fiddlers of all age groups participate in this fun and entertaining local championship. The festivities officially begin Thursday night at 6:00 p.m. Contests begin Friday morning and last until Saturday night.
Dawn Institute Apple Fest
October
Dawn Gardens' Community Center and Apple Orchard
What do you get when you combine bluegrass music, autumn leaves, a toasty bonfire, picnics on the lawn, and bushels of juicy apples? The annual Dawn Gardens Apple Fest, of course! Every year, the Dawn Gardens opens up their Community Center and heirloom apple orchard to the public for a free apple harvesting festival. The Apple Festival takes place on the last Sunday in October, and begins at noon with a potluck, music, apple harvesting, apple press instruction, and fun for all ages that will last until dusk. Participants are encouraged to bring picnic blankets/lawn chairs, and a potluck dish, as well as jars and bottles from home to contain your fresh squeezed apple juice! Additionally, kids will enjoy the squash decorating and other family style craft activities. It's a full day of (free) family fun and frolic… and where can you find THAT these days8
Plan Your Visit
Planning your trip
If you need help planning your trip, please, call St. Bernard Lodge at 530-258-3382.  Even if you are not staying with us, give us a call for current weather conditions and other questions you may have about events and activities.
Check out our rooms. For availability at St. Bernard Lodge, visit our reservation page.