Where to See the Best Fall Colors in Northern California
September 1, 2022 by: Sharon Roberts
We know it's still summer, but it is never too early to start planning a fall escape. Autumn is truly a spectacular time in Plumas County and has some of the best fall colors in Northern California. The region features some of the most beautiful fall colors in all of California, making it a must-see destination for nature lovers and photographers from all across the country. The moment you step out the door, you will be greeted with a spectacular array of bright yellows, deep golds, and rich reds. Keep an eye out for Mountain Dogwood, California Black Oak, Big Lake Male, Indian Rhubarb, and more. You can see the changing colors from Late September until November. During this time, you will also enjoy blue skies, crisp air, and smaller crowds. Read on for more information about exploring the autumnal splendor of Plumas County locally referred to as Awesome Autumn.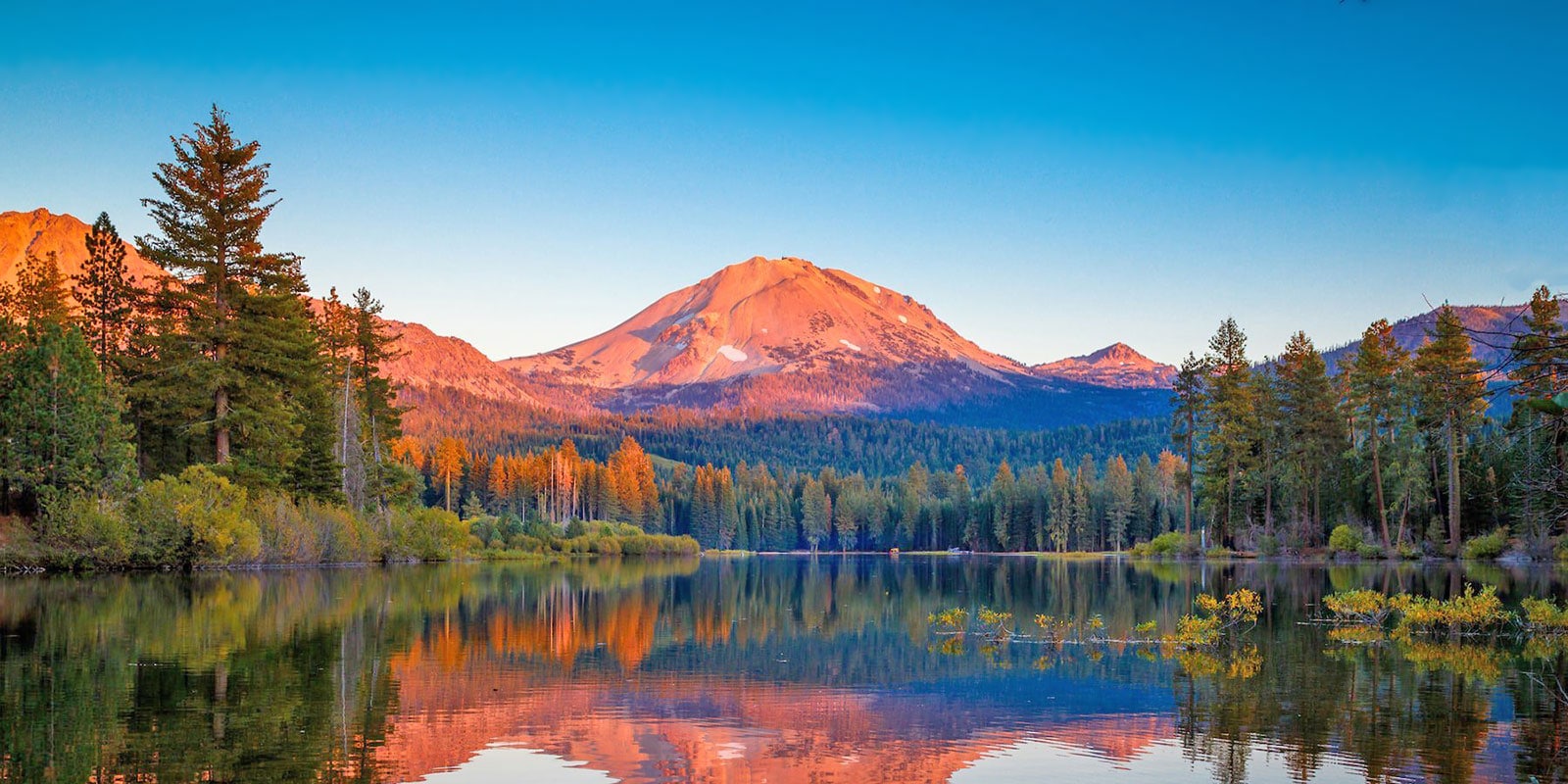 Lassen Volcanic Park and Lake Almanor
There are many wonderful drives in and around Chester where you can experience the magnificence of fall without leaving your car. Cottonwoods and domestic maples line the highways leaving Chester as well as the tranquil banks of the Feather River. Following Highway 36, you'll find miles and miles of colorful dogwood before you turn onto Feather River Drive, also known as "fire hall" because of its glowing birch and aspen trees. You can also take the roads to Warner Valley, Benner Creek, Deer Creek, and Juniper Lake for equally marvelous views. Once you are in Lassen Volcanic Park, you will have many wonderful chances to see quaking aspen, thermal pools, and stunning autumnal landscapes. We especially like the views from Hat Creek Meadow, pictured on the header image above. But wherever you go in Lassen Volcanic Park and Lake Almanor, you really can't go wrong, the area has some of the best fall colors in Northern California.  Much of Warner Valley was devasted by the 2021 Dixie Fire and this area will not be as maginificant as in previous years.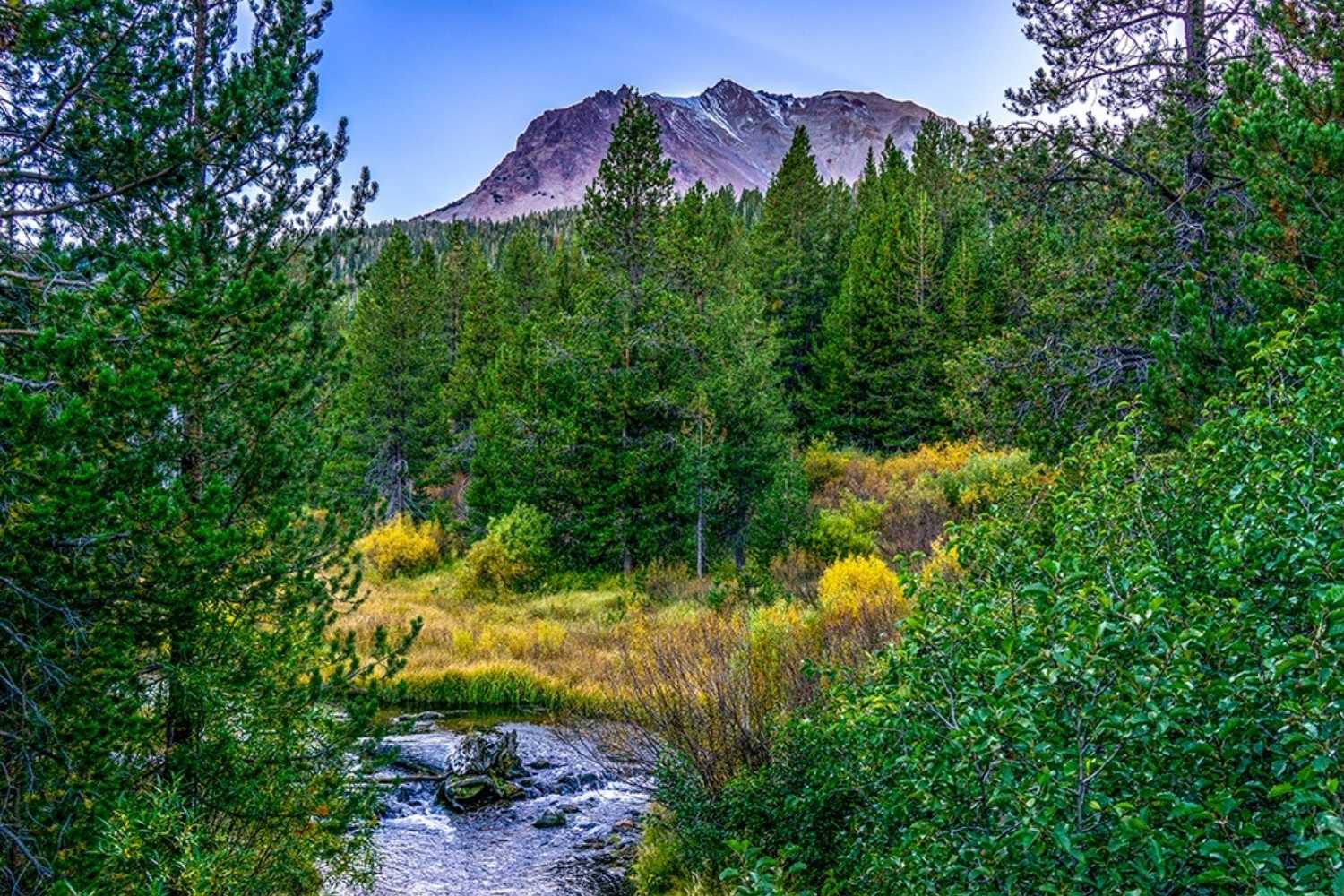 Feather River Canyon
The Feather River Scenic Highway stretches from Oroville to Quincy along Highway 70. On this breathtaking 75-mile drive, you'll be treated to striking clusters of golden oak, blazing dogwood, and Big Leap maple lining the mountainsides. The fall colors pop even more thanks to the dark evergreen trees mixed into the landscape. Take Highway 70 all the way to Quincy for more lovely sites but don't forget to stop along the way for some great marked hikes.
Quincy/Bucks Lake Area
Start your journey in downtown Quincy, where stately mpales, sycamores, locust trees, and Virginia creeper surround the historic courthouse and neighborhood homes.  One well known tree is just a few blocks behind the courthouse,(Lee Way) known as the Judge Thieler Tree. Rows of majestic maples also line the front of Quincy High School. Then take Quincy Junction Road to Chandler Road to see a magnificent oak and cottonwood filled valley. From there, follow Buck Lake Road past impressive masses of dogwood and Big Leaf maple all the way to Bucks Lake, where you will find several gorgeous groves of aspen and creek willow.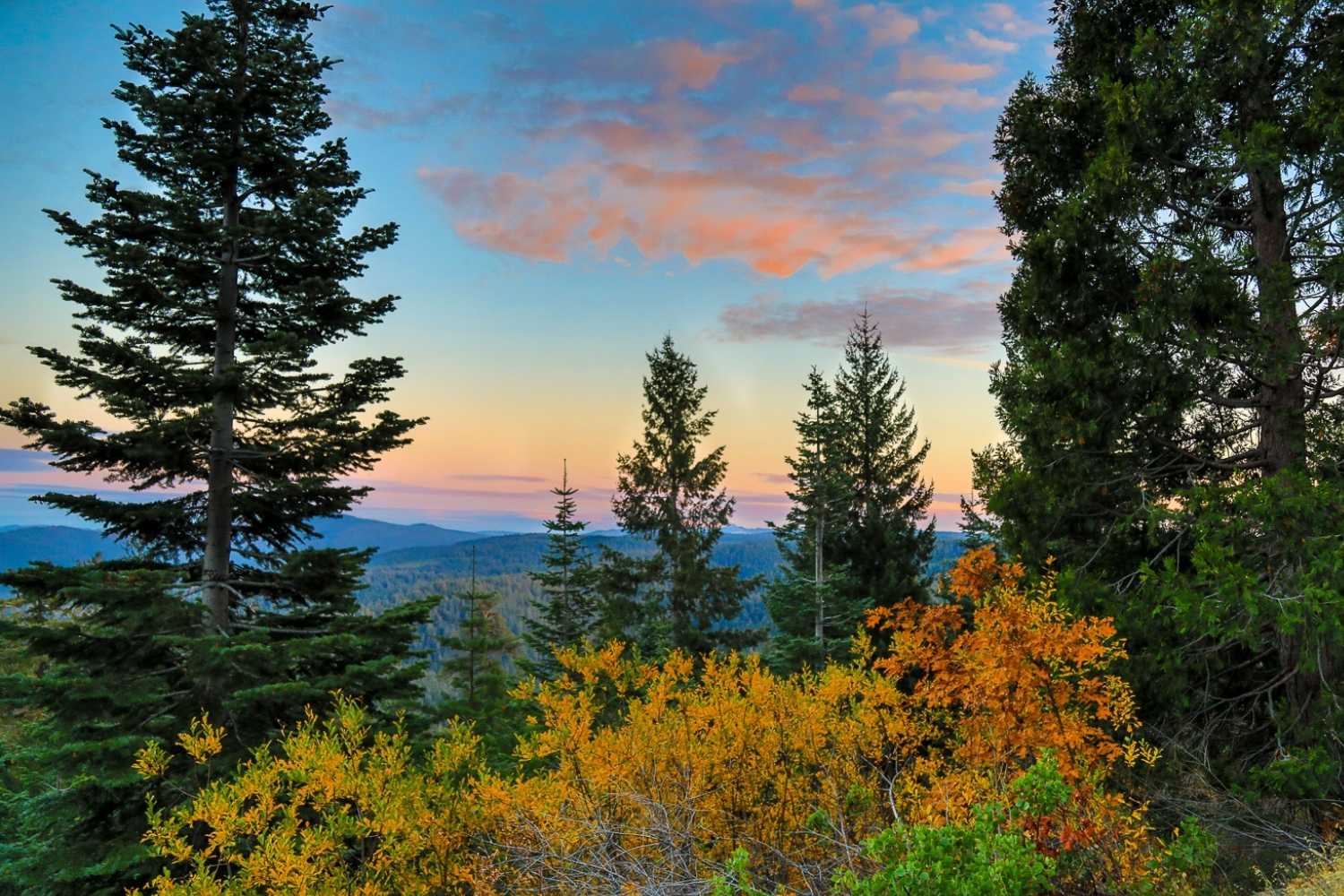 Indian Valley
This is one of the most awe-inspiring drives in all of Plumas County. Beginning at the intersection of Highways 70 and 89, you'll head north towards Greenville. The Feather River will be along the right side of your car, this area had spectacular views of hillsides covered with orange oak, red chokecherry, and colorful dogwood.  Since the Dixie Fire you will have to look a little further for color.  It will be easier to see the rushing waters of the Feather River and the willows and Indian Rhubarb lining the river.  Take time to stop at Indian Falls and make the short walk to the river.  Just north of Indian Falls is Indian Rock.  As you near Taylorsville, you will have wonderful views of the valley and Mt. Hough. The oak and aspen covering the mountain ravines have been likened to "saffron waterfalls." If you'd like to continue your journey, you can drive to Antelope Lake and beyond, or turn around and take Highway 89 to Round Valley Lake, where you'll find more groves of dogwood, Big Leaf maple, and cottonwood.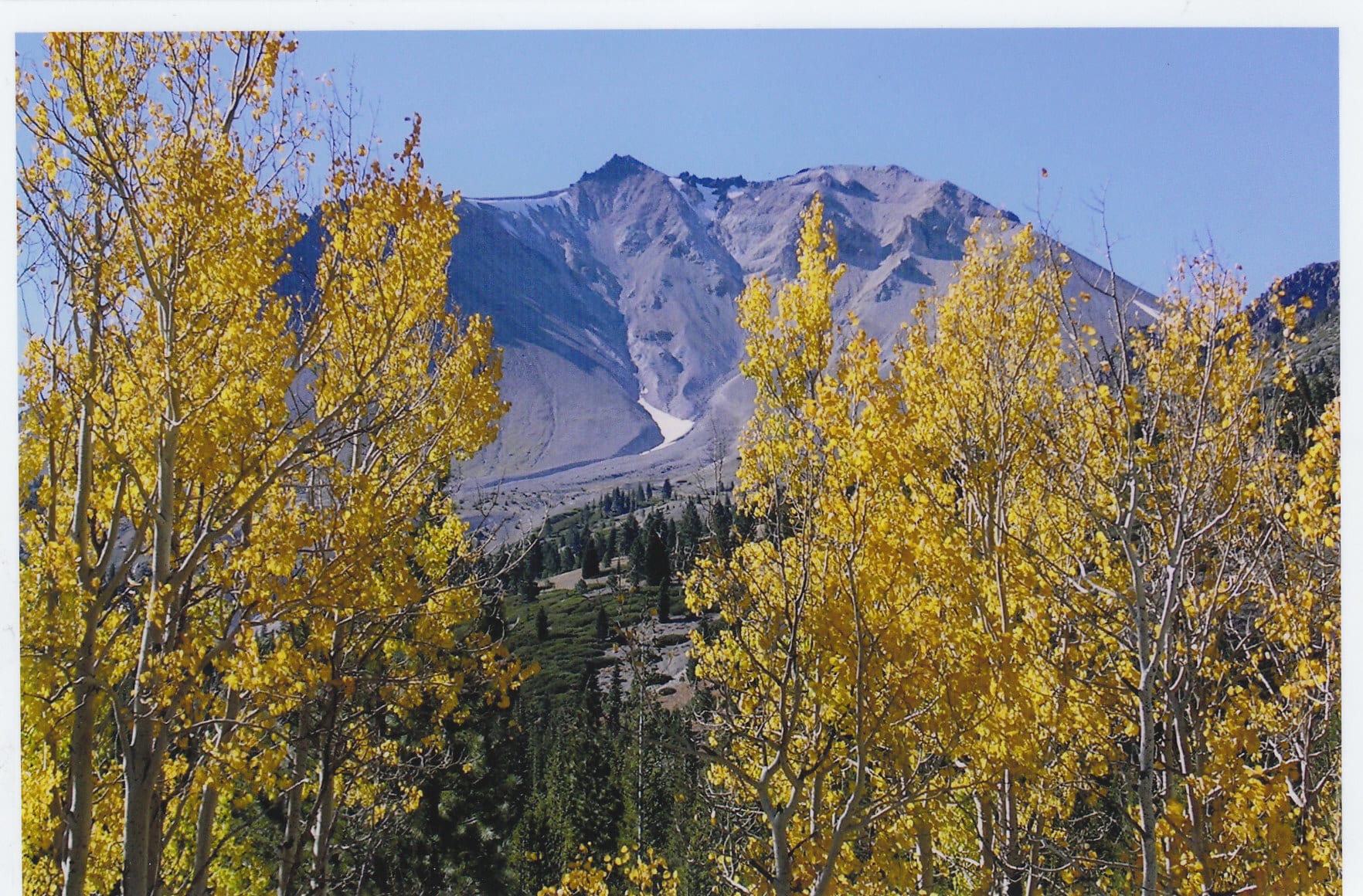 Visiting St. Bernard Lodge in the Fall
Both St. Bernard Lodge and Lassen Volcanic National Park are less crowded in the fall over visiting during the summer.  The lodge is close to some amazing Northern California Fall Colors, a few to be seen on the property.  In adddition to enjoying great hiking and fall colors there are fun local events to attend in the fall.  There is still and an abundance of outdoor activities to enjoy, both road biking and mountain biking are a great way to get around and enjoy the fall colors. Plan a few days to stay at St. Bernard Lodge and enjoy Lassen Volcanic Naitional Park, Lake Almanor and some of the best fall colors in Northern California.
For more details on this fall's upcoming colors, read the Plumas County Awesome Autumn Blog, the blog is updated weekly during fall colors.  Enjoy the Where to See Fall Colors in Northern California Guide  and  Fall color driving guide pdf.
Planning a trip to Chester, California? Book a stay at the historic St. Bernard Lodge, located just minutes from Lake Almanor and Lassen Volcanic National Park.