Christmas Tree Permits 
Christmas tree-cutting permits for personal use are now on sale at the Plumas and the Lassen National Forest.  St. Bernard Lodge is close to both forests, which are great places to find your perfect Christmas tree this year.
Start or continue a family tradition of cutting your own Christmas Tree.  Plan ahead and have fun!
Lassen National Forest has several changes for Christmas Tree Permits in 2022
Permits are $10 each, with a limit of two permits per household.  Permits are not interchangeable between Lassen and Plumas National Forest.  Much of both forests were burned during the Dixie Fire; please plan and check that your favorite cutting areas are still available ahead of time.
The Lassen National Forest would like to let folks know of a few changes to the Christmas tree permit program that are continued from last year and the changes for 2022 Christmas Tree Permits:
 To purchase by mail:  Mail-in form.  Complete the form and send a check for $10.
Sales for Christmas tree permits will begin by mail or in person on November 1, 2021.
Permits will be available in person at the Almanor Ranger District in Chester.  Monday-Friday from 8:00 am – 4:30 pm.  530-258-2141 if you have any questions
The Shasta-Trinity National Forest will no longer be selling permits for Christmas trees to be cut on the LNF.
At this time, two vendors in Chester are selling Christmas Tree Permits; Ace Hardware  and Ayoob's Intermountain Hardware.
Lassen National Forest Christmas Tree Permits can NOT be purchased online.
Christmas Tree Permits for Plumas National Forest
Cut your own Family Christmas Tree
Permits are only 10 dollars and trees may be cut now until December 24, 2021. Make this a family or group outing. With purchase of a permit you will be given a map of the tree cutting areas and regulations.
A large portion of both Lassen National Forest and Plumas National forest have been burned in the Dixie Fire.  Please make sure to visit National Forest website for closure maps.
Take the family out and find the perfect Christmas tree. With careful selection of your tree you not only get the best and freshest Christmas tree you will be improving the health of our forest with thinning.
Please follow guidelines for cutting Christmas Trees
Do not cut trees larger than 6 inch diamter
Cut trees in forested area to help with thinning
Do not just cut the top of a larger tree
Make sure you have your permit and map with you
Both the Lassen National Forest  and the Plumas National Forest have an abundance of Douglas Fir, California Red Fir and White Fir trees, which are all favorites for Christmas Trees.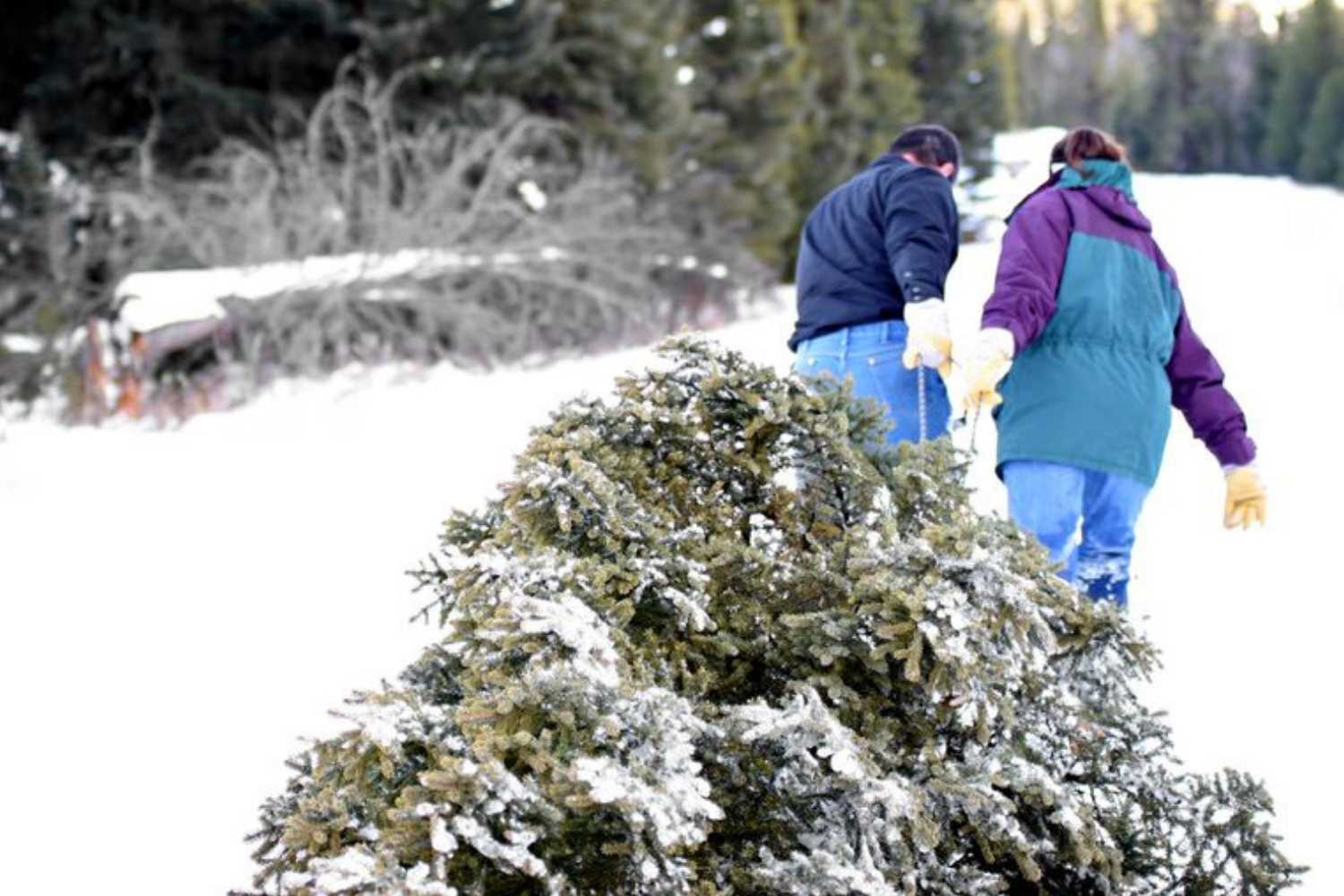 Additional Tips for a Great Tree Cutting Experience
Give yourself plenty of time to enjoy the outdoors and find your families perfect Christmas Tree. Pack refreshments and plenty of snacks.
To make your trip more memorable spend a night or two at the St. Bernard Lodge. Lassen National Forest is only a few minutes from the lodge. You may book a single room at the lodge or book the entire lodge for a group of up to 20 guests. We will cook and clean for you giving you the day to find your perfect Christmas tree and enjoy the outdoors.
After cutting your Christmas tree return to the lodge to warm up, relax, play a game of pool, or have a warm (or cold) drink at the bar. Need more action head into town for some very unique shopping choices, November and December offer several special events to enjoy or visit Lassen Volcanic National Park.
Tips on finding the perfect Christmas Tree
1. Measure – Before you leave home and go hunting for that "perfect tree," you'll need to decide where it will fit in your home. Once a spot is chosen be sure to measure both the ceiling height and the width of that space. Also, measure your tree stand to determine the maximum diameter of the tree trunk you can use in it. Finally, measure the height of your tree stand as well as the height of your treetop decoration. Use all these measurements to determine the perfect height and width of the Christmas tree you'll select for your home.
2. Make sure to bring your tape measure – From personal experience the size of the tree can be very deceiving in the forest. You want to be a responsible Christmas tree harvester and not cut a tree that you will need to cut down once at home.
3. Things to pack– Heavy gloves to protect your hands, old blanket or tarp to protect your car and tree, twine or rope to securely tie your tree to the car, hand saw, snacks and water, clothing for possible snow conditions.
4. Make sure you have your permit– You may order via mail or purchase at one of the locations listed above. Make sure you know hours and days permits may be purchased if planning to purchase on same day you are cutting your tree.
Plan your trip
If you need any help in planning your trip please call St. Bernard Lodge at 530-258-3382.  Even if you are not staying with us, give us a call for current weather conditions and other questions you may have. For availability at St. Bernard Lodge visit our reservation page.