Bumpass Hell Geothermal Area is one of the top attractions in Lassen National Park, and for good reason. Bumpass Hell is the largest hydrothermal area within the park, and easily accessible for hikers of all ages and abilities. The area is open seasonally, from June through about October.
Of course, while you're in the area exploring the incredible Lassen National Park, you'll need somewhere relaxing to stay.  That's where the St. Bernard Lodge comes in! Not only are we one of the closest hotels to Lassen Volcanic National Park, but we offer the perfect place to relax, unplug, and enjoy these beautiful natural surroundings.
If you're looking for a great place to get out of the city and explore this summer, you've found it!  Book your room at our hotel near Lassen National Park today!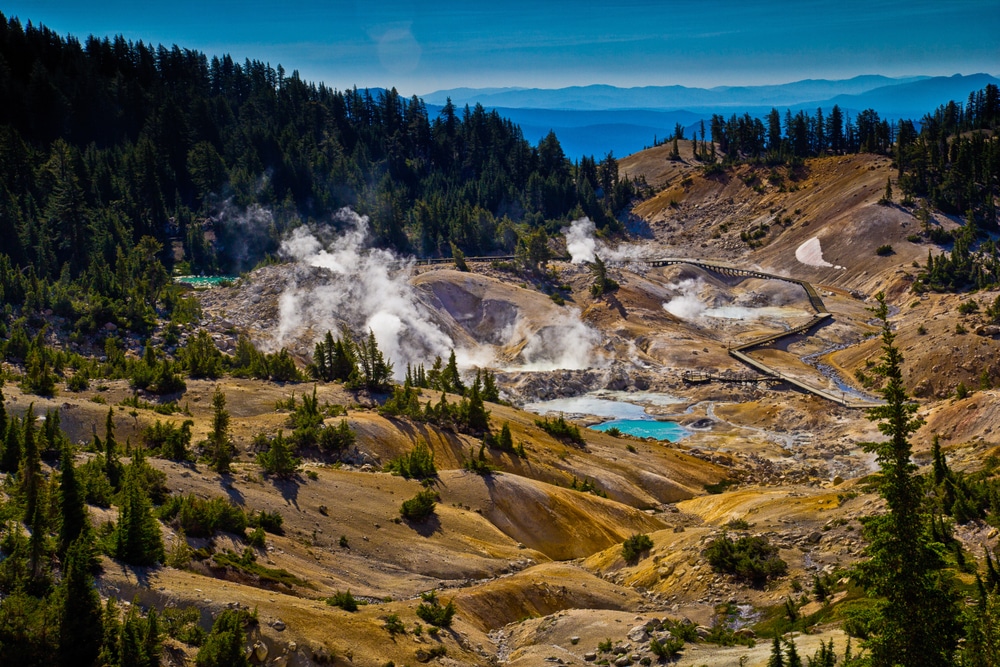 Explore Bumpass Hell Hydrothermal Area
Lassen Volcanic National Park, most notably, known for its volcanoes.  However, it's also home to beautiful wildflower-strewn meadows, clear mountain lakes, looming mountain peaks, , and an incredible array of hydrothermal features.  One of the most notable of these is Bumpass Hell – aptly named, we think, for the 16 acres of boiling springs, mud pots, fumaroles, and hissing steam vents that you'll encounter here!
Bumpass Hell is named for early explorer Kendall Vanhook Bumpass, who discovered it in the 1860's. Unfortunately, he discovered it by stepping in and severely scalding his leg – it was later amputated. Thanks to the elevated boardwalks through this area, you can now pass safely through these hydrothermal features.
Bumpass Hell is accessed from the Bumpass Hell parking lot, which is just 7 miles away from the southwest entrance to the park – around 25-30 minutes from our hotel. The hike is a short 3-mile round trip trek, and is accessible for a wide variety of ages and abilities. Along the trail, you'll enjoy the uniquely colored soil, stunning turquoise pools, and even jaw dropping views of some of the park's peaks.
The noise you'll hear as you hike to Bumpass Hell is from the bubbling mud pots and pools, along with the roaring fumaroles. Big Boiler is the largest fumarole in the park, and the steam coming from it has been measured at an astonishing 322 degrees Fahrenheit.  It's one of the hottest fumaroles in the world.
Plan to spend about 2 hours hiking to and around the Bumpass Hell Hydrotherman area, and make sure to take plenty of water with you.  Shade along this trail is limited – and winter conditions at this elevation can persist, especially in early summer. Make sure to stray along the marked boardwalk trails as well, as the ground can be a thin crust hiding pools of acidic boiling water or mud. You don't want to end up like Mr. Bumpass!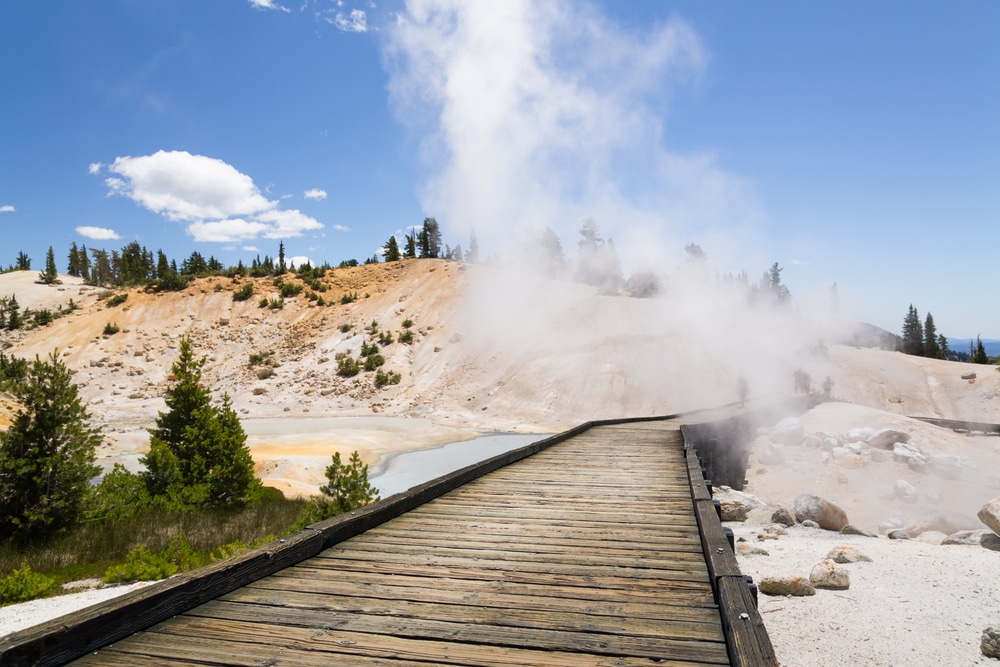 Top Lodging Near Lassen National Park
St. Bernard Lodge, situated on 10 picturesque acres, is the best place to stay when exploring Lassen Volcanic National Park. Located nearby are other outdoor destinations, such as Lassen National Forest, Lake Almanor, the Pacific Crest Trail, and so much more. Our hotel truly puts you right in the heart of all of the best things to do in this area, including, of course, the delightful Bumpass Hell Hydrothermal area.
Our hotel is perfect for couples, families, and groups traveling to Lassen National Park and beyond. We offer 7 separate guest rooms, and can accommodate up to 20 guests.  Each morning of your stay will start with a hearty breakfast, and arrangements can be made for lunch and dinner if you'd like as well.
We do provide WiFi if you need it, but truly, the best part about staying at our hotel is unplugging and enjoying the escape from your harried everyday. Enjoy some time on our patio, where you'll find views of Carter Mountain, play games or relax in our lounge, or stroll the grounds here and watch for wildlife, taking in the scenery as you go.
Guests have been enjoying relaxing getaways at the St. Bernard Lodge since the 1920's – it's time you come see it for yourself.  Book your room at our hotel near Lassen National Park today!