12  National and State Parks for your 2023 California Road Trip
California is teeming with national and state parks. There are thunderous waterfalls, colossal trees, and scenic mountains. Many of these parks are accessible for a weekend getaway within a few hours of San Francisco. Many are also close enough to our comfortable inn to allow us to serve as your home base. If you are looking for the ultimate adventure, visit these beautiful treasures during an epic state and national park road trip. Below are some of our favorites and ones guests have seen before, during, or after a stay with us. Visit the parks in order or chart your unique path.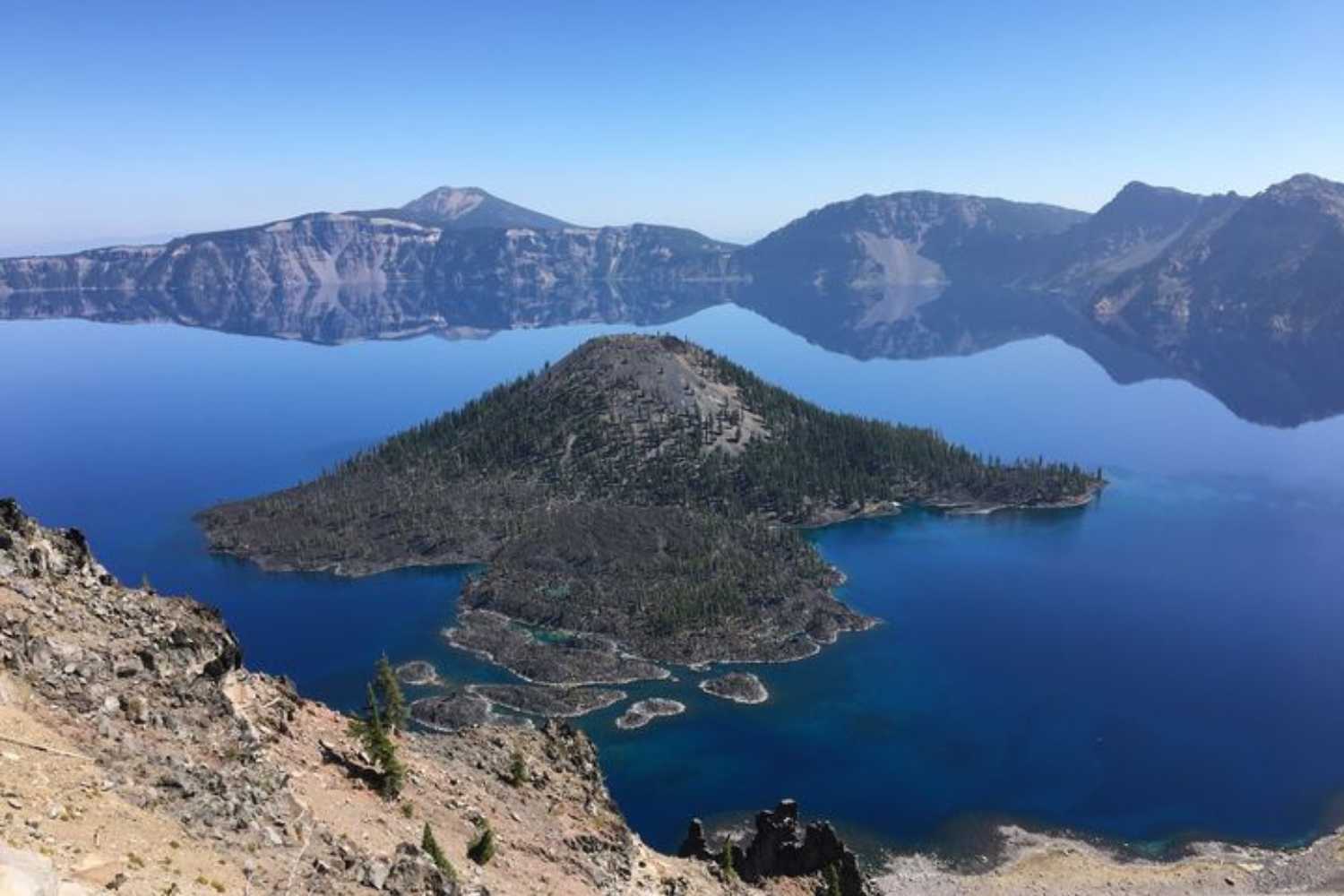 Crater Lake National Park – Yes, this one is technically just north of California in Oregon, but it's so amazing that we could not leave it out. This sleeping volcano holds the deepest lake in the United States. Scientists consider it the cleanest and clearest large body of water because the lake is entirely fed by rain and snow.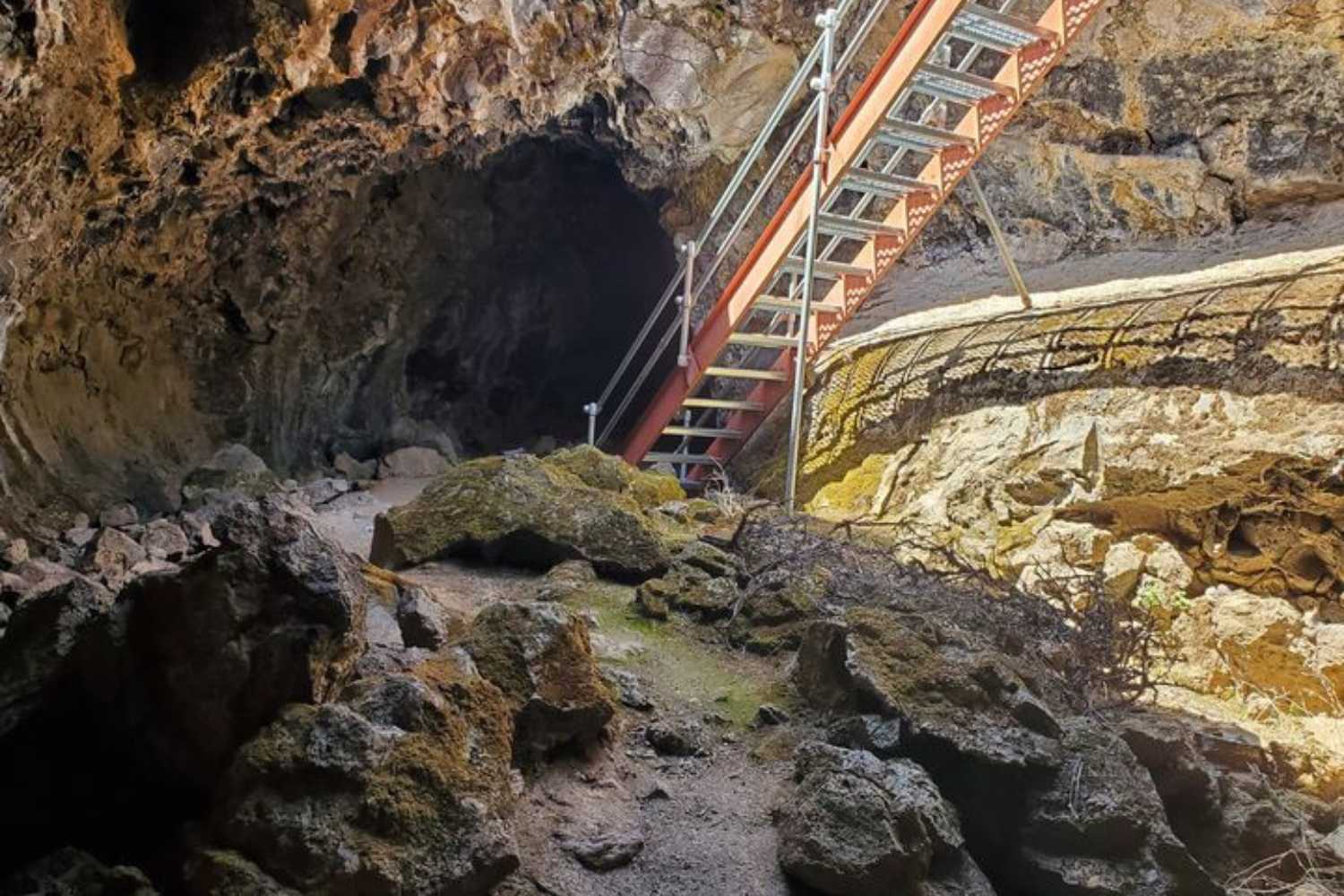 Lava Beds National Monument – The high desert wilderness is home to 800 caves, historic battlefields, and Native American rock art sites. Spend time below ground in a lava tube cave. Then venture topside to learn about the Modoc War.  Lava Beds National Monument is a great stop between Carater Lake and St. Bernard Lodge.  Lava Beds are about three hours from St.  Bernard Lodge.
Redwood National and State Parks – These trees are enormous! The largest on the planet. These parks also boast 40 miles of rugged coastline and endless prairies. Where else might you spot elk and whales on the same day?
Patrick's Point State Park- Only 30 miles north of Eureka. Patrick's Point is along the Northern California Coastline with great hiking, tide pools, and wildlife viewing, and the park features an Indian Village used for cultural and educational activities.
McArthur-Burney Falls Memorial State Park – A waterfall does not need to be the tallest or largest to be the most beautiful. The 129-foot Burney Falls makes for a memorable trip.  Burney Falls is less than two hours from St. Bernard Lodge.  This is an excellent stop between Lava Beds and Lassen Volcanic National Park.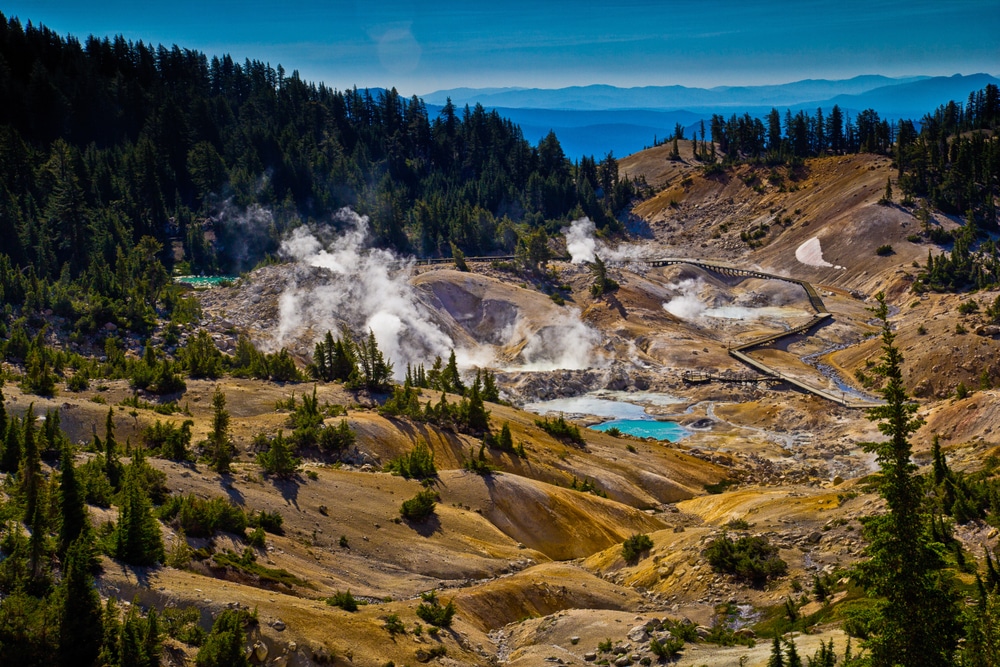 Lassen Volcanic National Park – This is the only national park that boasts all four types of volcanoes. We are only 20 miles from the SW entrance to the park, so we suggest St. Bernard Lodge as the place to stay when visiting Lassen Volcanic National Park.  Hiking Guide for Lassen Volcanic National Park.
Pinnacles National Park – Novice and experienced bird watchers love visiting this park to spot prairie and peregrine falcons, golden eagles, and California condors. Keep an eye out for California Red-Legged Frogs when venturing through the caves.
Columbia State Historical Park – Known as the "Gem of the Southern Mines." By 1853 Columbia was one of the largest cities in California. Today Columbia SHP contains the state's largest collections of gold-rush-era structures; most have active businesses highlighting the business and life of the gold-rush era. Visit, have a drink, take a stagecoach ride down the main street of Columbia, or try your hand at panning for gold.
Yosemite National Park – First designated as a state park, the protection of this land predates the formation of national parks in this country. The park features the tallest waterfall in North America, spectacular views at Glacier Point, and more than 750 miles of hiking trails.  Hiking Guide for Yosemite National Park.
Sequoia and Kings Canyon National Parks – Challenge yourself to the 350-step concrete and stone stairway to the top of Moro Rock. These twin parks also boast the highest point in the 48 contiguous states. Mount Whitney stands at an astounding 14,494 feet.
Death Valley National Park is the hottest, driest, and lowest national park in two states, California and Nevada. Despite the chilling name, the park is full of clever animals such as bighorn sheep, kangaroo rats, and desert tortoises. Take a ride along the 9-mile Artists Drive to be treated to colorful hills.
Joshua Tree National Park – It may seem like all deserts are the same, but this park is at the crossroads of two distinct desert ecosystems. Don't miss the famous Skull Rock (which perhaps would be better suited in Death Valley?) and the variety of cacti spread throughout.  Detailed hiking guide for Joshua Tree National Park.
Depending on your time, you can visit these 12 National and State Parks in one long road trip or break into 2 or 3 separate road trips.
Please feel free to call St. Bernard Lodge for more information on these parks; we can be reached at 530-258-3382 or by e-mail. California is a spectacular state to visit.