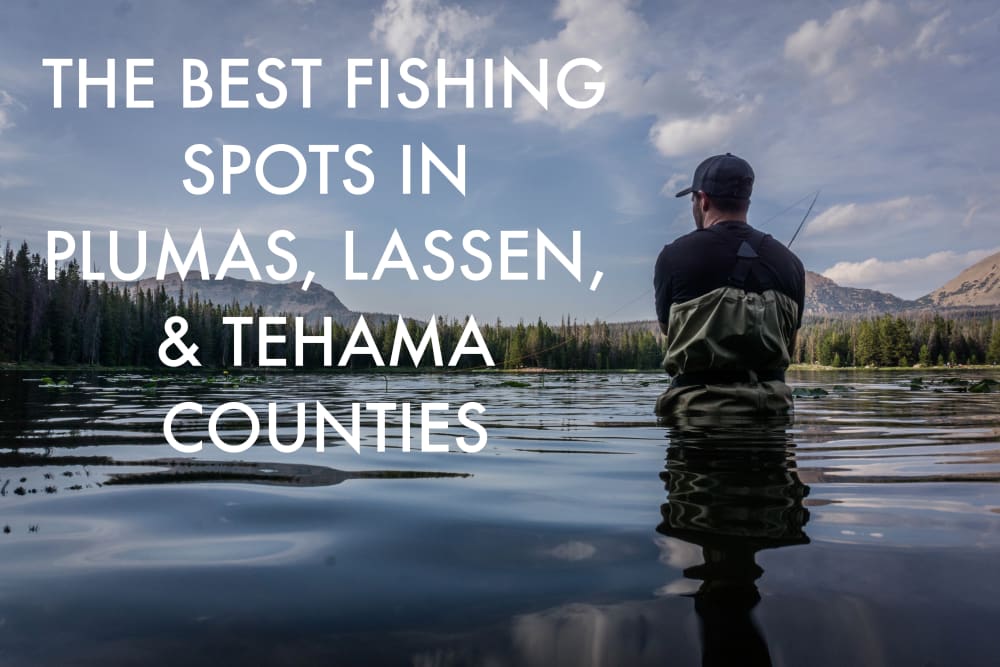 The Best Fishing Spots in Plumas, Lassen, & Tehama Counties
August 2, 2019 by: Sharon Roberts
The stunning lakes in Northern California aren't just great to look at. Under the water, these lakes are filled with life. Rainbow Trout, Kokanee Salmon, Largemouth Bass, and Mackinaw Trout are just some of the species you'll find hidden in these mountain gems. Whether you want to fish from the shore, a boat, or fly fish in the streams, Plumas County has a body of water for everybody. Here are some of the best spots in the county to cast a line, and a couple of secret spots to find the best catch.

Lake Almanor
Lake Almanor is the biggest lake in Plumas County and it is stocked regularly, making it the most popular reservoir for fishing. A catch is almost guaranteed in these waters. The only problem is finding a spot that not only has some great fish in it but is comfortable and allows you to really enjoy your day. We have found that most of the north shore is either private property or a little too swampy and that the southwest shore is the best option for a good fishing spot.
Canyon Dam boat ramp: Not on the ramp of course, but along the beach just north of it boasts a perfect beach to relax for the day. Winding coastlines let you choose a secluded cove, a sunny crest, or somewhere in between to relax and set up shop.
Secret Day Use Area: You won't find this spot in a tour guide or listed in Field and Stream, but if you are looking for a lesser-known, secluded fishing spot to sit back and fish the day away, then we've got you covered. Just south of Prattville, you'll find beach enclaves where you can drive right up to the water if that's your style and a more established Day Use Area with parking and bathrooms. Directions: After passing through Prattville, continue down Almanor Drive W. for a little over a mile and the day-use area will be on your left.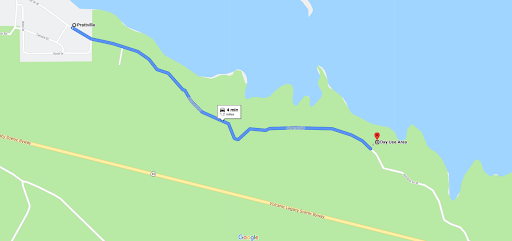 Deer Creek
Deer Creek meanders along Highway 32 between Chester and Lomo and is a great spot to go fly fishing. Fishermen love this stream because it is one of the only undammed tributaries of the Sacramento River and therefore allows for wild runs of salmon and steelhead to flourish. You can fish this spot from spring to fall and expect some great catches. To find out more, read this guide on how to fish Deer Creek.

Lake Davis
Lake Davis is one of the best trophy rainbow trout fisheries in the west. This lake is known for hosting some of the biggest Rainbow Trout in the region but is also a great place to find Largemouth Bass and Brown Bullhead. Waterskiing and jet skis are not allowed on this lake, making it the ideal location for a peaceful day of fishing.
Old Camp Five Boat Launch: This boat launch has all of the usual perks of restrooms, parking, and boat docks, but also a 100-foot fishing levee. This is a fully accessible fishing point that is perfect for fishing year-round.
Dillard Guided Fishing: If you want to head out on the water for the day, then Ed Dillard is the man to call. A fishing enthusiast all his life, and a fishing guide in the area since 2000, he knows the lake and its fishy inhabitants like the back of his hand. He'll take you out into the deeper waters where the trout like to congregate and help you catch the trophy you deserve.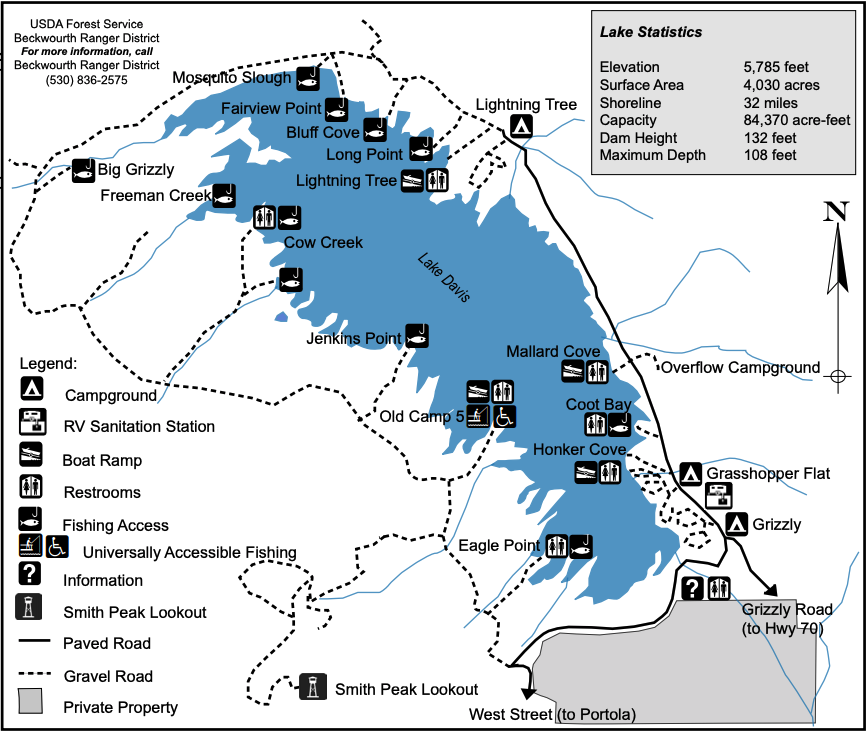 Bucks Lake
Located just outside of Quincy, CA, this picture-perfect lake is set in a granite basin with tall evergreens surrounding the lake. Bucks Lake hosts Rainbow Trout like the other lakes but has a great reputation for Kokanee Salmon and Mackinaw Trout as well. Shoreline fishing is abundant and quite literally surrounds the lake, however, our secret is to head to the northern shore. The north side of the lake is surrounded by wilderness and is a bit further from civilization, while the southern shore has more private property and summer cabins.
Sandy Point Day Use: This beach puts the coast to shame with their beautiful pines, sandy beaches, and scenic views. Cast a line or take a dip at this secluded little gem.
Middle Fork of the Feather River
Fly fishers delight at this bountiful river. Feather River is known to hold some of the best wild Steelhead Salmon in the state, in addition to Rainbow Trout and other highly sought after species. The Feather River spans through a large part of Northern California and contains wonderful fishing spots along with several parts of the river.
Clio: The small town of Clio holds a secret. Perfect waters for trout with riffles, runs, and pools galore. Cross over the iconic Clio Bridge and climb down to the river for stunning scenery, slow waters, and plentiful fish.
The picturesque lakes and rivers of Plumas County in Northern California are an outdoorsman's paradise. With numerous hatchery and wild trout and salmon, something is almost guaranteed to bite. Spend the day in peaceful solitude and see what you can catch.
Planning a fishing trip in Plumas County? Book a stay at the St. Bernard Lodge, a charming and historic bed & breakfast just minutes from Lake Almanor & Lassen Volcanic Park!