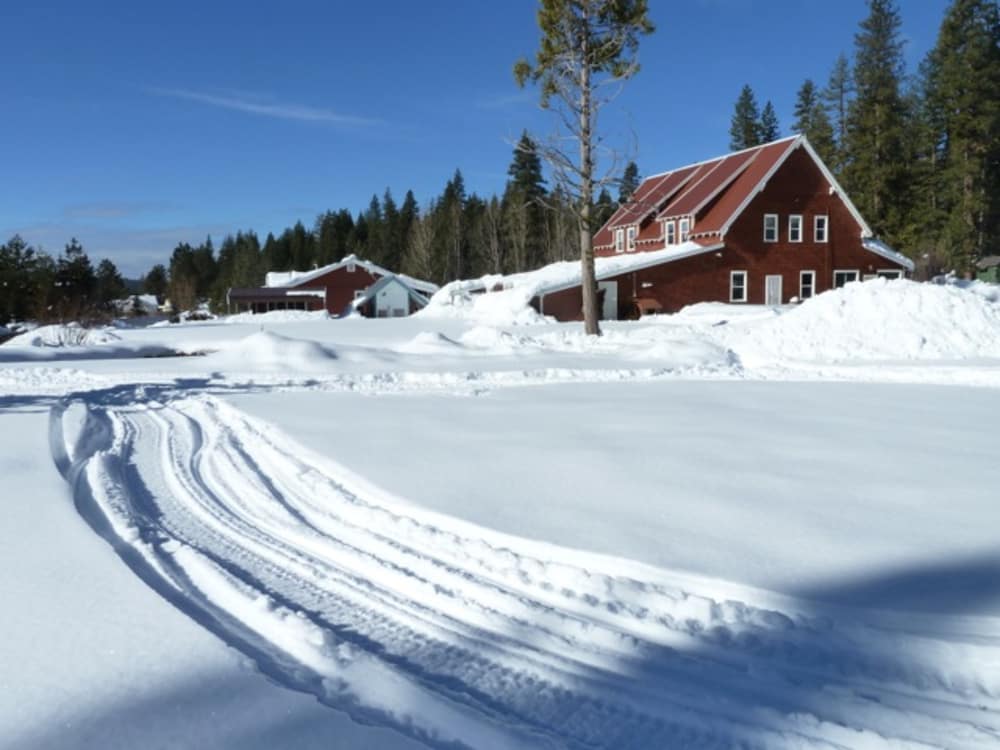 Our Favorite Winter Activities in Lassen Volcanic Park
November 20, 2017 by: Sharon Roberts
Lassen Volcanic Park is beautiful any time of the year, but it is especially magical when covered in a blanket of snow. The winter months offer a wealth of exciting adventures in and around the park. You'll find some of the best cross country skiing and snowshoeing trails around, as well as other exciting winter activities the whole family can enjoy. Elevations range between 5,650 to 10,457, so expect a lot of snow. Although most of Lassen Volcanic Highway closes to vehicular traffic during the winter, you can still access skiing and snowshoeing routes beyond Loomis Plaza on the north side of the park. Kohm Yah-mah-nee Visitor Center in the Southwestern corner of the park is also open to the public during the winter months. The vestibule at the visitor center is open 24 hours during the winter, with heated restrooms and potable water. The visitor center is staffed Wed. – Thurs. 9 am – 5pm. But make sure you come prepared. Bring layered clothing, snow boots, a hat, and gloves to stay warm. And be aware: Lassen is avalanche country, so keep an eye on your surroundings at all times. Follow this link for information about winter activities and snow conditions in Lassen Volcanic Park.
BEGINNER ROUTES
1. Sulphur Works

Length: 2 Miles Round Trip
Lassen is famous for its geothermal areas and Sulphur Works is the easiest to reach in the winter months. To get there, follow the park highway route one mile north of the Kohm Yah-mah-nee Visitor Center. Many visitors choose to make the journey on skis or snowshoes, but you can also walk there as long as you keep off the ski tracks. And consider yourself warned: snow surrounding the geothermal areas may look solid but it might actually be a weak layer hiding pools of acidic boiling water.

2. Nanny Creek via McGowan Ski Trail
Length: 5 miles one way
McGowan Ski Trail is located in the Lassen National Forest just south of the SW entrance to Lassen Park. The trailhead and parking is 2 miles north of the Hwy 36/89 junction on Hwy 89 leading into the park. This trail is used by both cross country skiers and snowshoers. It is possible to ski from the trailhead on Hwy 89 down to Hwy 36, making this a great one-way ski route if you have vehicles available for shuttle. Unlike the National Park, dogs are allowed off leash in the National Forest. Chico XC Ski Group has many outings to this trail each winter and non members are welcome to join. Download map of McGowan Ski Trail Area.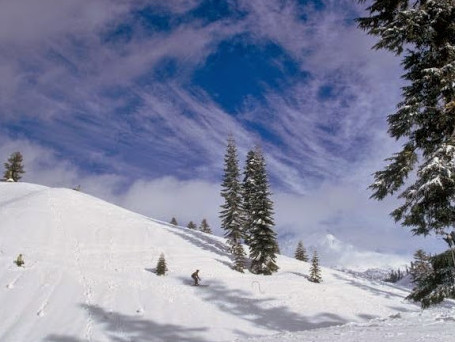 3. Manzanita Lake Snowshoe Loop
Length: 1.5 miles round trip

This 1.5 snowshoe loop is a great start for beginners. It will take you about an hour and a half and you'll see sweeping views of the park and Chaos Crag along the way. Begin near the Loomis Ranger Station and circle the lake in either direction to experience beautiful surroundings and get a great workout.

INTERMEDIATE ROUTES
4. Ridge Lakes
Length: 4 miles round trip

Start from the parking area of Sulphur Works. This route begins at the north end near the flat area and basically follows the summer trail for Ridge Lake. Stay to the right of the creek and keep Mount Diller slightly to your right when it comes into view. This is a favorite route for guests wanting to snowcamp in the Ridge Lake Basin area. The Ridge Lake Basin area makes a nice base camp area for visitors wanting to ski Mount Diller and Pilot Pinnacle. Map for Ridge Lakes Winter Camp Area.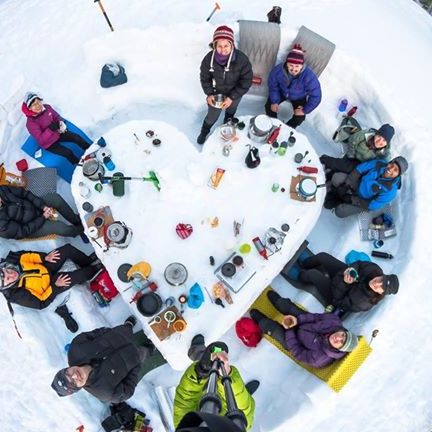 Guided Snowshoe Tours
If you don't feel confident enough to head out on your own, Lassen offers many excellent ranger led snowshoe tours from January through April. This is a great way to learn about the sport, fine-tune your technique, and see some of the best sights in the park. Walks are on Sat. and Sun. at 1:30 and last about 2 hours. The park provides snowshoes and provides basic instruction for those not familiar with snowshoeing and also teaches about winter safety and the wildlife that makes the park home in the winter.

Family Snow Play
During the winter months, the Southwestern parking lot becomes a hub for family activities like sledding and barbecuing. Within minutes from the parking lot, you will find enough amazing sledding hills to keep you and the family thrilled all day long. The beautiful views of the park are just an added bonus.

Snowmobiling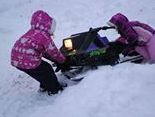 Lassen National Forest is known for having some of the best snowmobiling trails in California. Snowmobiling is a great way to access parts of the forest and mountains that might be too difficult any other way. It is a thrilling and unique way to explore the Lake Almanor basin. The region boasts 459 designated snowmobile trails, and five staging areas within 30 minutes of St. Bernard Lodge. The lodge has plenty of parking for guests bringing snowmobiles and trail access right from the lodge. You'll have many world-class options to choose from. Some of our snowmobile areas include:
Morgan Summit
Chester-Lake Almanor Snowmobile Park
Swain Mountain
Fredonyer
Jonesville
Check out the Lassen National Park Winter Recreation Map for more routes and details.

Downhill Skiing
Coppervale Ski Hill is an easy 30 minute drive from St. Bernard Lodge on Hwy 36. The ski hill has both a Poma lift and a rope tow. Adult tickets are $20 during the week and $25 on weekend, children 6 and younger are free with a paying adult. More information on Coppervale.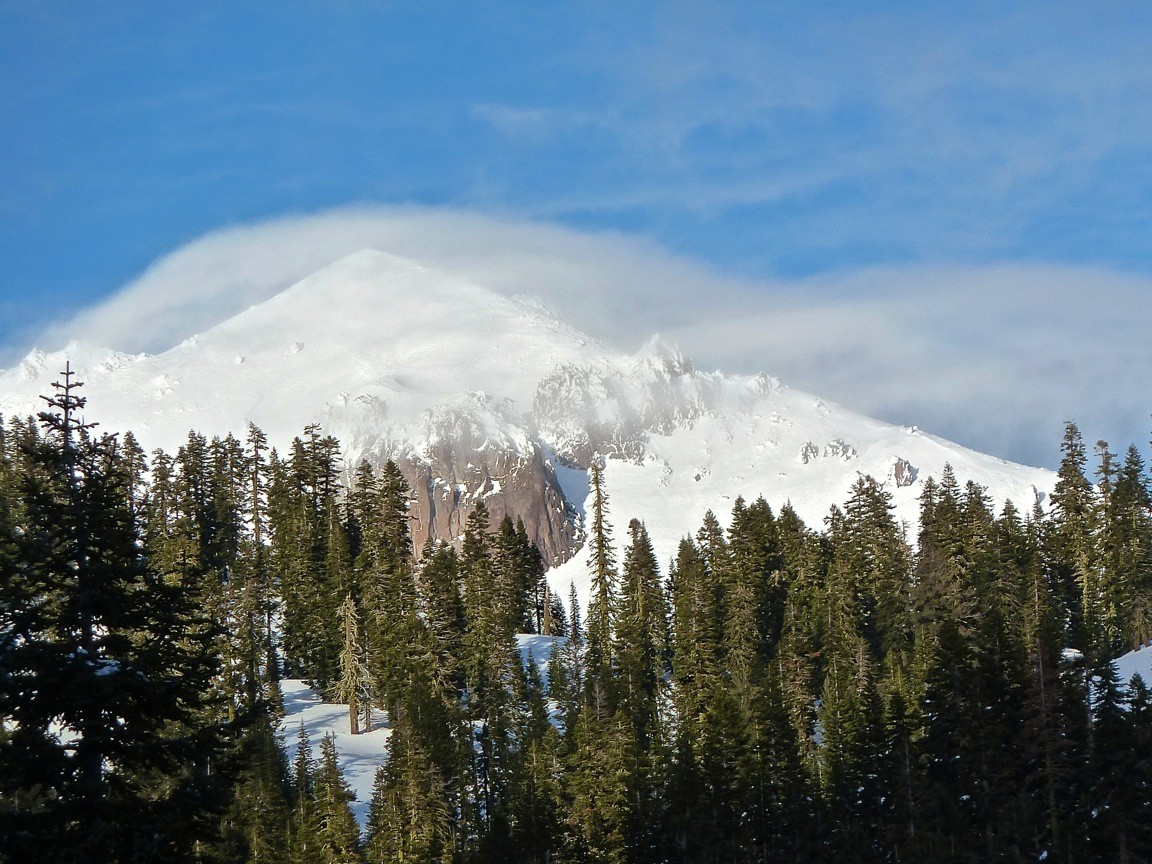 Winter Events to Enjoy
There are also many unique and exciting events happening in the area during the winter months. Check your calendar to see if you can make it for any of our favorites:
Historic Longboard Races: January, February and March on the 3rd Sat. of each month
Chester Winterfest Dog Sled Race: February 15th & 16th 2020
Butte Meadows Hillsliders Poker Run: TBA 2020
Lake Almanor Snowmobile Club Poker Run: President's Weekend 2020
Winter in Lassen tends to last from 4-6 months, so you have plenty of time to visit the region and explore its countless wonderful winter activities. Whether you come to cross country ski, snowshoe, camp, or simply enjoy a mug of hot chocolate from the comfort of the lodge, we promise you'll find the winter adventure that is right for you. As always, feel free to give us a call while you are planning your trip. We love to answer guest questions and lend our expertise. Happy Holidays!

Planning a trip to Lassen Volcanic Park this winter? Book a stay at the St. Bernard Lodge and you'll be staying in the heart of the Lassen winter wonderland.