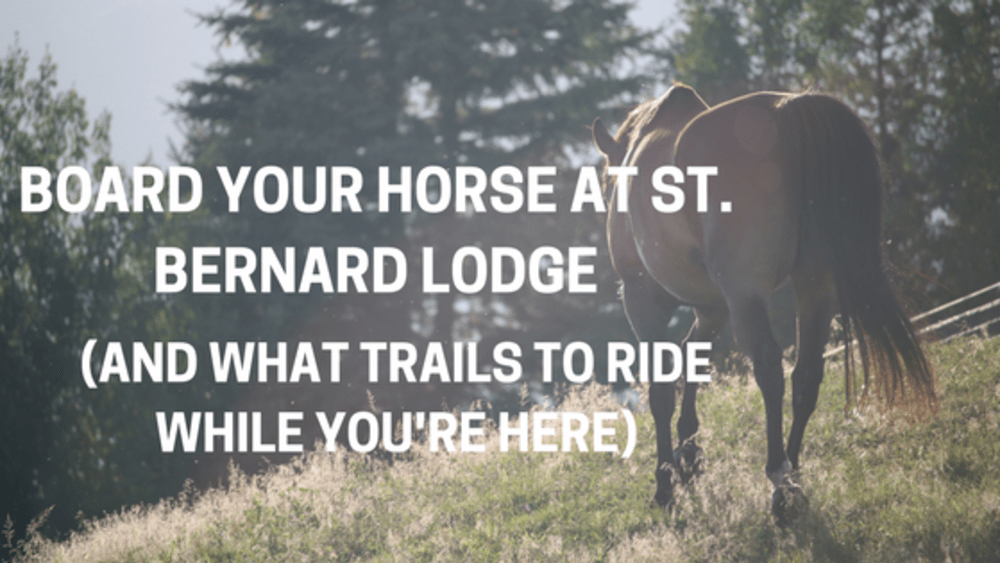 Board Your Horse at St. Bernard Lodge (And What Trails to Ride While You're Here)
December 20, 2017 by: Sharon Roberts
If you own a horse and are looking for some amazing trails to explore on your next trip, look no further than the St. Bernard Lodge. We offer affordable overnight boarding for riders and their horses, as well as friendly, up-to-date information on the best trails in the region. Our property includes seven corrals and two larger fenced pastures along with a large space to park your trailer. Follow the link for more information about boarding your horse at St. Bernard Lodge.
The St. Bernard Lodge is located within minutes of countless beautiful and well-maintained horseback riding trails. Lassen Volcanic Park is certainly the main draw of the region, with over 150 miles of trails looping through meadows, mountains, and lakes, but there are many other unique trails to discover while you're here. If you choose the St. Bernard Lodge, you will have convenient access to Lassen Volcanic National Park, the Pacific Crest Trail, the Caribou Wilderness, and other Northern California gems.
The famous Pacific Crest Trail is located only 1.4 miles from the lodge. This trail is best known as a hiking destination, but it is also a great trail to experience on horseback. Many people choose to start longer endurance rides at Stover Springs, about 7 miles from the property. On the trail, you will traverse Soldier Meadow and climb Carter Mountain. You can also access the PCT just past Domingo Springs campground and ride the PCT to Drakesbad, a guest resort located in the heart of Lassen Volcanic National Park that has been in operation since 1900. Call 866-999-0914 to make arrangements at Drakesbad, where you can lunch and soak in their mineral hot spring pool.
One of the most popular trails for our guests is the South Caribou Lakes Loop. Located in the Caribou Wilderness, this ten mile loop will take you past seven lovely crystalline lakes, including Beauty Lake, Posey Lake, Long Lake, and 4 other Hidden Lakes. The Caribou Wilderness is a gentle, rolling plateau dotted with forests, glacial lakes, crater peaks, and cinder cones. With its outstanding scenery and wide variation in terrain, it is the perfect trail for slightly more advanced riders.
You can also access many geothermal sites via horseback. Devil's Kitchen Trail (1 ¾ hours) in Lassen Volcanic Park is a great way to see some of the park's premier geothermal landscapes, including hot springs, steam vents, and mud pots. This is a great trail for beginners or children. You can also take a trail to Terminal Geyser (2 ¾ hours), a very powerful steam vent in Lassen Volcanic Park. Along the way, you'll pass Boiling Springs Lake, the biggest acid lake in the United States.
The Bizz Johnson Trail is one of our favorite cycling, hiking, and horseback riding routes in the area. The unique trail actually follows an old railroad route. Once the roadbed of the Southern Pacific's Fernley & Lassen Branch Railway, it is now a popular trail to ride your bike, take a hike, or explore on horseback. Take this trail to follow the paths of old steam engines pulling lumber through the Sierra Nevadas. You'll cross eleven bridges, two tunnels, and pass by the rushing Susan River.
While these are some of our favorites, there are so many other great trails to explore during your stay with us. Follow the link for a more extensive listing of trails or call us anytime for additional tips or suggestions. We are happy to help!
Some general rules to keep in mind about horseback riding in the region:
Horses are not permitted to travel cross-country while in the park
Prohibited to ride or stake animals in picnic areas or campgrounds
Stock parties camping overnight are restricted to one of the designated sites at Summit Lake, Corral & Butte Lake Hitching Posts, or Juniper Lake Corral
Read essential information on saddle and pack use in Lassen Park.
Planning your next outdoor adventure? St. Bernard Lodge is the perfect bed & breakfast for you and your horse. Book your stay with us today.