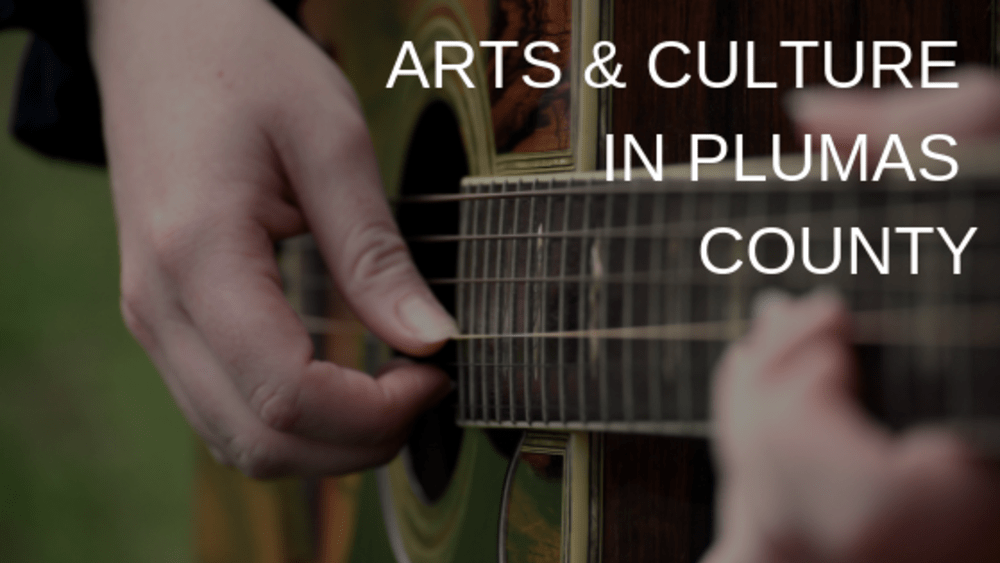 Arts & Culture in Plumas County
April 10, 2019 by: Sharon Roberts
Many people travel to Plumas County to experience its rugged natural beauty and plentiful opportunities for outdoor adventure. However, the region is also a mecca for artists and creatives looking to build thriving communities throughout the Northern California wilderness. Our little corner of the state is filled with exciting art, theater, music, and literature offerings for the more culturally-inclined adventurer. Here are our top picks for exploring the arts & culture of Plumas County.

Visit the Plumas Arts website for up-to-date information about the region's incredible visual, musical, and literary artists. This is a great starting point for mapping out your cultural explorations of the region. You'll find the latest artist and event information for Chester, Lake Almanor, Quincy, Portoal, and Greagle.

The nearby town of Quincy is a great place to start. The newly renovated Capitol Arts Gallery now houses the Plumas Arts Gallery, which showcases the work of a diverse and talented group of local artists working across a variety of media, including sculpture, wood, basketry, pottery, and jewelry. While admiring the beautiful art, you will also be experiencing a piece of Plumas County history. The gallery is located inside the old Capitol Saloon building, the oldest bar in Plumas County until it closed its doors in 2008.

From there, visit the Main Street Art Gallery, located in the historic Clinch Building on Quincy's charming Main Street. The co-operative space currently shows the work of over 30 local artists, with a featured member artist showcased every two weeks in the main portion of the gallery. They gallery also hosts several art walks throughout the year, a local favorite.

Quincy is also an excellent place for theater and film lovers. The Town Hall Theater doubles as a professional performing arts venue and a single screen theater that regularly shows feature, classic, foriegn, and cult films. Their live performances range from stage productions to dance recitals to children's theater. The West End Theater is a traditional black box theater that provides an intimate space for community performances aimed at enriching the community through theatrical arts.

Fans of music and literature will fall in love with Words & Music at Patti's Thunder Cafe, a monthly poetry reading and acoustic music open mic night. Words & Music provides a safe space for artists to share their work and gives audience members a chance to support the many artists who help make Plumas County such a special place to live. Words & Music has been happening at Patti's Thunder Cafe since 1989 and has occasionally expanded to various locations in Chester and Portoal.

While in Chester, we highly recommend you spend an hour or two exploring the treasure trove at B&B Booksellers. There's nothing quite like a small-town bookstore, and B&B certainly delivers in this respect. This cozy bookshop sells the hottest bestsellers as well as used classics and beloved children's books. B&B Booksellers also has many local guidebooks on the area. We recommend picking up a good book and relaxing in the coffee shop, where there is plenty of space to read and reflect. The bookstore also has a selection of fun games, toys and gifts.

Chester galleries host a 2nd Friday Art Walk from April until October. This is the perfect opportunity to get outside and explore our charming small town while supporting local artists. You might even pick up a few one-of-a-kind souvenirs to bring home with you.

If you like music, keep a lookout for the Chester Community Chorus' highly anticipated performances each May and December. The High Sierra Music Festival in Quincy is a wonderful music festival featuring a world-class performances across genres, including bluegrass, folk, funk, jazz, and rock 'n roll. The festival is held at the Plumas-Sierra County Fairgrounds over the Fourth of July holiday every summer.

Planning a trip to Plumas County? Book a stay at the historic St. Bernard Lodge in Chester, located near Lake Almanor and Lassen Volcanic Park.