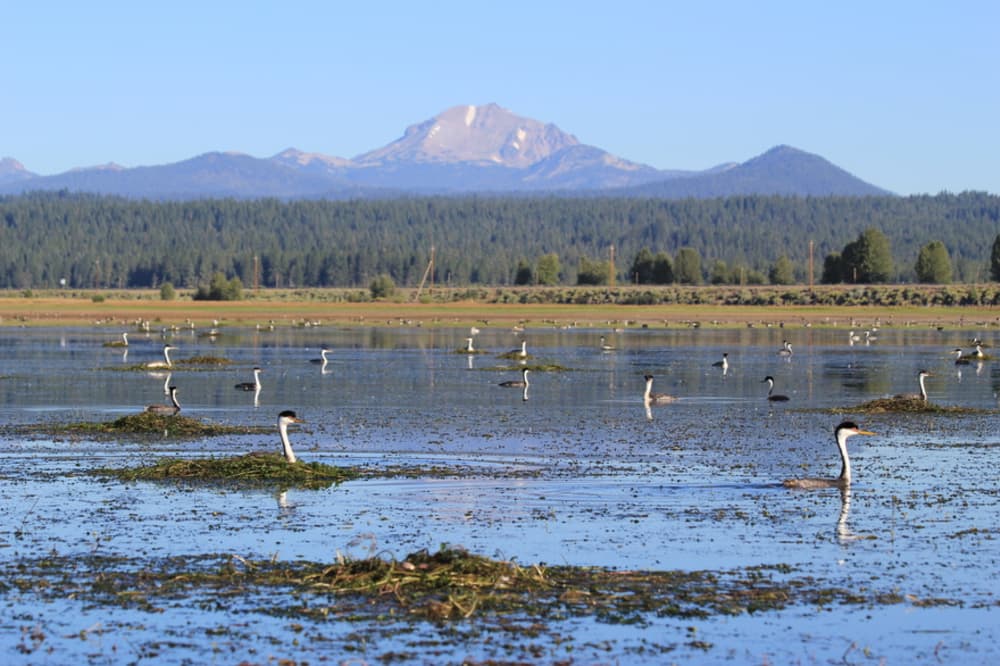 2nd Annual Grebe Festival Lake Almanor
August 6, 2017 by: Sharon Roberts
The 2nd Annual Grebe Festival will take place August 18-20, 2017 in Chester, CA at Lake Almanor
Last year's event was a great success and and a lot of fun for presenters and participants. Most events sold out. This year several new field trips have been added. Make sure to register early.
This will be three days filled with outdoor adventure, birding, culture, and fun on the lake. The festival celebrates Western and Clark's Grebes, unique migratory bird species that build nests on inland lakes, dance on the water in fascinating courtship rituals, and breed their young in late summer.
Expert-led pontoon and kayak trips on the lake offer festival-goers an up-close view of grebe colonies. Enjoy birding in Lassen National Park, explore botany and riparian habitats of the lakes and streams nearby, discover Maidu Indian culture and history in the area, and much, much more!
To register for the Grebe Festival and to learn more about the event, visit www.plumasaudubon.org/grebe-festival.
Friday Field Trips Include:
Photography Workshop with Betty Bishop
Botany& Birding at Willow Lake
Pontoon Boat Tour
Screening of John James Audubon: The Birds of America
Owls Around Lake Almanor
Saturday Field Trips Include:
Birding by Sight and Sound at Susamville Ranch PArk
Kayak Tour of Northshore of Lake Almanor
Humbug Valley Tour of Ancestral Lands of the Mountain Maidu
Photography Workshop with Betty Bishop
Birding in Lassen National Park
Working Lands for Wildlife Tour
Olsen Barn Information
Olsen Barn & Meadow Walk
Field Journaling
Kayak Southwestern Shore of Lake Almanor
Pontoon Boat Tour on Lake Almanor
How to Draw a Better Bird
Sunday Field Trips Include:
Kayak Tour Northshore Lake Almanor
Eagle Lake Walking Tour
Pontoon Boat Tour
North Fork Feather River Riparian Bird Walk
Big Meadows; Before there was Lake Almanor
Introduction to Dragon fly Odeig
Dragfly Odeig field trip to Wilson Lake
Almanor Bicycling Tour with Colby Elliot
Brief description of a few events:

Humbug Valley, Olsen Barn, Lake Almanor
August 18-20. Tour the special places you help protect.
Tour Humbug Valley: Join Ken Holbrook of the Maidu Summit Consortium, and Shelton Douthit of the Feather River Land Trust for a tour of the ancestral lands of the Mountain Maidu. Learn about the historic land transaction of Humbug Valley and what it means for the Maidu people and local communities today and into the future. Take the driving and walking tour this Saturday.
Visit the Olsen Barn: Meander through the Olsen Barn Meadow, part of the Lake Almanor Important Bird Area (IBA) with enthusiastic and knowledgeable birders Scott and Amber Edwards. This trip features riparian and meadow habitats along the North Fork of the Feather River. Go birding this Saturday.
Get out on the water: There are a few afternoon pontoon boat rides with expert birders still available. Want to paddle? Check out the Southwest shore of Lake Almanor kayak tour on Sunday morning at 10:30am. Look here for tours that still have openings.
Free kids activities: There are many low-cost and free events at the Grebe Festival. Highlights include an ice cream social, "How to Draw a Better Bird" workshop, an "Introduction to Dragonfly Odeing" class, scoping from shore, and field journaling.


For more information, prices and to register please visit the Plumas Audubon website.