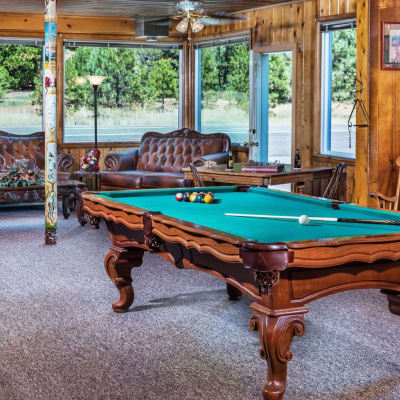 Dining
Restaurant & Tavern Near Lassen National Park Serving Breakfast, Lunch & Dinner
The St. Bernard Lodge is a rustic bed and breakfast located minutes from both Lassen Volcanic National Park in Mineral, CA and Lake Almanor. The lodge offers 7 distinct rooms all available to groups and families - in addition to creative and sumptuous breakfast, lunch and dinner menus are available in our restaurant.
The spacious dining room features tables that are illuminated with oil burning lamps and place settings on Battenburg style lace tablecloths.
As a guest staying at the lodge a full breakfast is included in your room rate. Guests not staying at the lodge can make reservations at least a day in advance for breakfast. Please call the lodge directly at 530-258-3382.
The dining room is available for special parties for groups of up to 50 guests. The lodge is an ideal location for rehearsal dinners, business meetings, anniversary dinners, surprise parties, and Christmas parties. Adding an overnight stay makes the event extra special, but is not required.
The tavern has a fully stocked bar and a variety of wines and beers to enjoy. Special requests can be made ahead of time for particular liquor or wine to be available.
The entire dining area is decorated with antiques and historic memorabilia creating a very relaxed and soothing atmosphere in which to enjoy one of our delicious home cooked meals.
During summer months outside dining is available on the deck with views of Carter Mountain and the ponds.
The variety of time-honored homemade soups, breads and meals that we serve will carry you on a nostalgic trip back in time.
If you are staying with us and have specific requests for meals please let us know in advance. We will do everything we can to accommodate your request.
Menus
Your favorite cocktails are also available at our full bar in the tavern which sits adjacent to the dining room.
Call the Lodge directly at 530.258.3382 for reservations or for help designing special group menus. The Lodge is able to provide sit-down meals, buffets or outdoor BBQ's for up to 50 guests. Menus can range from simple spaghetti to Prime Rib dinners.
The dining room is open by advanced reservations only. Please call at least one day in advance to dine at St. Bernard Lodge. The Lodge is a very convenient stop when traveling between Lassen Park and Chester or Lake Almanor.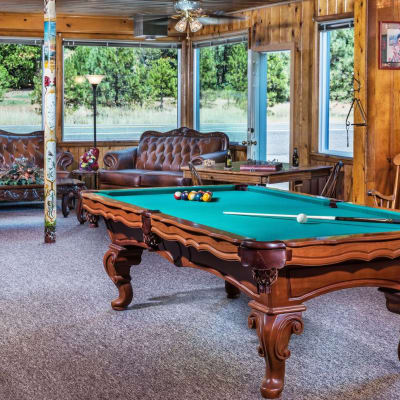 Tavern
Like the rest of our bed and breakfast lodge and restaurant, stepping into our tavern will give you the sensation of being in an old, turn-of-the-century, European tavern. At our tavern, everyone is your friend. Your experience will be warm, friendly and familiar, yet different.
If you close your eyes and let your imagination wander a bit you might be able to hear faint laughter and really interesting stories being told. No, the place is not haunted, but it does have a colorful history having been built in the 1920's. There have been many a wild tale and a lot of jokes shared across the bar. Lots of good times and memories permeate the walls. If they could only talk they would keep you here for days and weeks.
Come share your stories of visiting the lodge in the early days. Not sure anyone call tell a better story than the gentlemen who rode his horse through the tavern in the early 1940's.
While relaxing in the tavern many guests challenge each other to a game of pool on our custom made Olhausen pool table.
Breakfast, lunch and dinner or just a snack can be served to you in the tavern. We have a full bar stocked with your favorite liquors and, of course, your favorite beers. We also offer a fine selection of wines.
There is a television to watch "the game" if you desire, or play a game of pool on our new Olhausen pool table, darts, cribbage and many other games at hand. There are many other creature comforts that you are welcome to use and enjoy. You will feel right at home here and will have a difficult time wanting to leave, so allow for an extra hour or two!
At St. Bernard Lodge, you are amongst friends.
Call us at 530.258.3382 to reserve or feel free to reserve online.