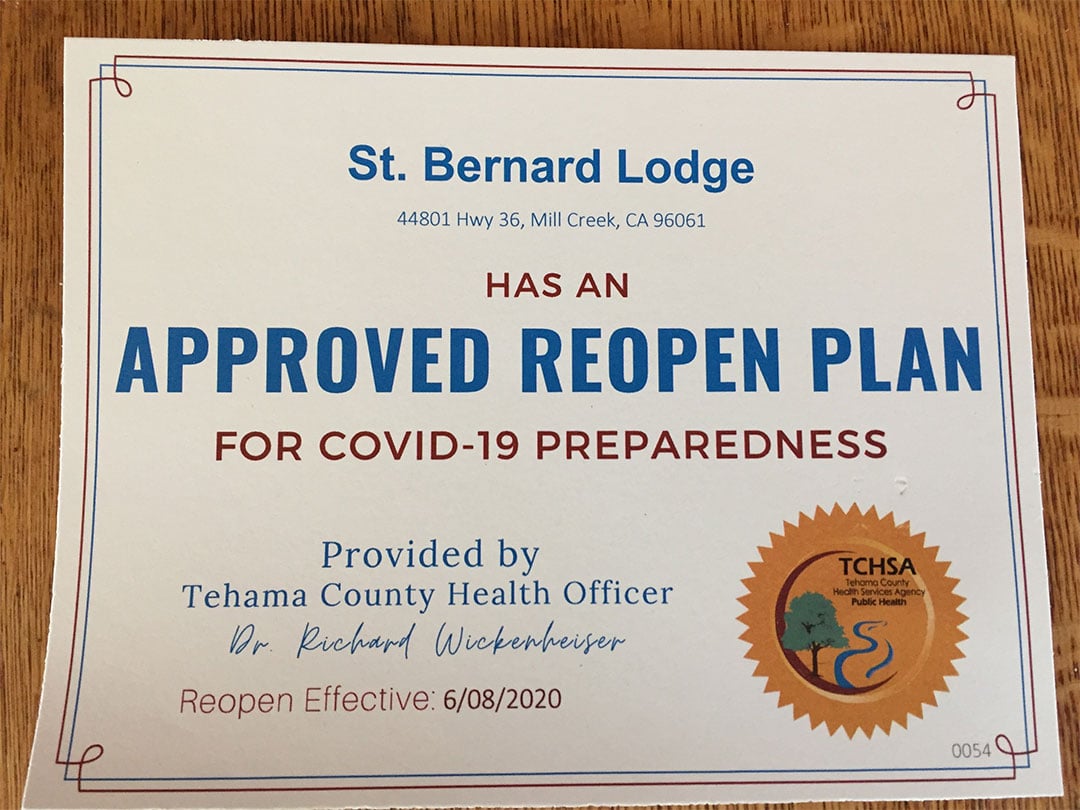 Are you itching to get away for a little while? Do you want to plan a vacation but are not sure the best way to do it? The St. Bernard Lodge is open and we have policies and procedures in place to protect you.
All you need to do is make the reservation. We will take care of everything else.
We are only a few hours from Sacramento, San Francisco, and Reno. It is so easy to get here without the hassle of flying. Hop in your car and take a scenic ride. Stop along the way to take photos or just stretch your legs.
As a small inn, we can easily take the steps needed to make sure everything is clean and you  feel comfortable. Here is what we are doing to protect your health when you visit us:
1. We have an approved reopen plan with a Tehama County Health Officer.
2. We are running at 50% capacity.
3. All rooms are blocked off the day prior and the day after a reservation.
4. All bedding is washed between guests.
5. We are requiring a two-night minimum for all new reservations.
6. We are allowing a maximum of two guests per room for all new reservations.
7. We are not taking same day reservations on our website. We apologize for this inconvenience. It is the best way to ensure everything is cleaned to the highest standards.
8. Check-in time has been moved to 4 pm to allow additional time to clean common areas.
9. Hand sanitizer is mounted at the front door.
10. The front door will be locked. Guests will call the lodge to check-in.
11. We are meeting or exceeding all sanitation guidelines.
12. We are delighted to be able to offer breakfast. Place your order the evening before. Guests will be scheduled for staggered meal times to allow for social distancing.
Does it all sound wonderful but you are not sure what to do when you get here? There are lots o opportunities for exploration in wide open spaces.
Visit a National Park. Lassen Volcanic National Park offers 150 miles of trails where you can practice social distancing while enjoying the beauty of nature. St. Bernard Lodge is 20 miles from the SW entrance to the park so you can explore for the day and return to a comfortable bed at night.
Bring your horse and board her in our stables. The famous Pacific Crest Trail is open for single-day rides. The PCT is accessible directly from the lodge via logging roads. There are many other nearby trails that we can recommend.
Dinner is available at St. Bernard Lodge. Dinner is served between 5 pm and 7:30 pm. Reservations are required at least one day in advance along with your dinner choices. Please check-out our menu. You may call or e-mail your dinner choices.
Go biking along a variety of scenic road routes or head to the mountains. Another perk of taking a road trip is the ease of bringing your bike along with you. Bodfish Bicycles & Quiet Mountain Sports has bicycles for rent and great maps for bike rides.
Bring you kayak and enjoy one or more of our mountain lakes.
Stay at the lodge and relax. Sometimes simply getting out of your house can make all the difference. With just under 10 acres, there is lots of room for guests to spread out. Sit on the patio with a glass of wine. Wander the grounds looking for birds. Bring a book and get lost in another world.
We look forward to welcoming you to St. Bernard Lodge. If you need any help in planning a visit to the area, please just give us a call.